---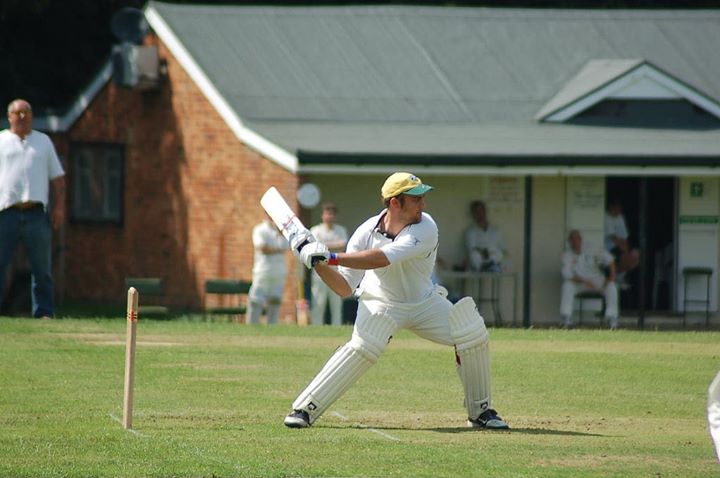 Match Report
---
14/07/2002 v SWANSCOMBE AND GREENHITHE
Drawn
---
The Sun finally made an appearance for our visit to Swanscombe and Greenhithe and also saw the welcome return of some old faces (Tony Day, Chris Jones and Tim McArdle) and a couple of guests from Halls who's game had been cancelled. (Sean and Liam Coleman). This could have left Richard for once with a selection problem but with Pete out injured things worked out fine.

Swanscombe won the toss and elected to field and chose a time and overs match, which many thought a strange decision considering how hot it was and the fact that more overs are produced before tea!

Liam and Tony opened and with a pair of spinners seemingly offering up some buffet balls things looked promising.

But all was not as it seemed and despite a fairly cautious start Tony was soon caught a bit static and edged one to gully.

The same bowler soon took Liam who had been joined by Neil and was tempted by one, which he clipped to square leg.

This found us on 4-2, which was a disastrous start, but fears were soon allayed by Neil and Adam (once again in sparkling form) who patiently started to chip away at the bowlers.

They were eventually rewarded when their patience (and a succession of wides that had Sean complaining of arm ache) produced a change in the bowling.

An acceleration in the scoring was the result with the 50 being reached after 16 overs.

Another change brought some more quick runs but with the partnership nearing its hundred Neil's wicket went to an excellent slip catch for a good 43 but not without first seeing the hundred up in 25 overs.

Adam was then well supported by Tim who came in for a quickfire 24 producing a flurry of fine shots before being stumped whilst reaching forward and missing a dollied up ball.

Chris was next and went out with the instructions to take out a few of the pavilion windows but opted for a few easy shots first and also helped Adam finally get his first 50 of the season with a nervous single in the 35th over with the pair having already seen the 150 through. He eventually got a well-earned 58.

Richard then joined Chris and with 20 minutes to go and was quite happy to help Chris along giving him the strike as often as possible, As by this point Chris was finding the gaps at will. A little luck went his way in the shape of four dropped catches but all the same he finally went in the last over for a blistering 56 with the final score on 217 - an excellent total.

The turnaround saw Chris and Tony open the bowling and with a succession of maidens Swanscombe very soon realised what their only option was and settled down accordingly.

This opening spell saw the opening batsmen creep up to 26 before a very sharp chance was missed in the gully off Chris. This seemed to unsettle the batsmen and in the very next over Tony finally made the breakthrough with Tim taking a catch at mid-off. Almost immediately Chris followed up with a caught and bowled and Swanscombe were beginning to look rattled.

Richard and Neil took over and both immediately got stuck in with good lines and lengths – Richard being especially unlucky with three lbw appeals being turned down despite enormous shouts.

Martin came on for Neil but unfortunately the No3 topped edged one into his face and had to retire with a bloody nose. This saw the introduction of Ahmed Patel who came in with no doubt as to what task was required.

With 15 overs to go Swanscombe were on 81 and things had started to go a bit stale but the return of Chris saw a forced shot go skyward into a gap but two balls later he skittled the stumps for a much needed breakthrough.

Chris, beginning to look tired was replaced by Liam, however Swanscombe rallied a little after this and started to make a little inroads into the score.

Richard and Chris came back for the last few overs and things tightened up and with Chris infact taking a catch off Richard in the last over to dismiss Ahmet for an excellent 104 a hard fought winning draw was confirmed.

Talk in the pavilion after centred on most peoples preferral for an overs match but as Richard pointed out it is up to the home side to choose but heart can be taken from some excellent individual performances and some terrific fielding all round – Next week Montrose the return!!!
---
v SWANSCOMBE AND GREENHITHE
177 for 4

Wickets

Runs

2

0

30

0

1

26

43

0

28

58

24

56

2

30

9 *

1

33

3 *

0

20

217 FOR 6 ---Drawn