Old Dartechs & Wilmingtonians Cricket Club
Founded 1961

---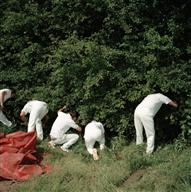 Match Report
---
26/05/2001 v Swindon IV
Won
---
First game on tour was at a lovely bank ground near Swindon. Not as seemed possible at one stage , a ploughed field in a the village where Adam told us it was.

It was a real wrench to tear the team away from the "Sheperds Rest", (nice beer and a good Stilton cheeseburger). In fact the half pint of Timothy Taylor's that Stringer had seemed to have a disproportionate effect as he strode out to the wicket with Colin Deal. Colin was dropped first ball, but did not stay around very long to embarrass the slip fielder.

In came Jock, who started to strike the ball all over the ground. Clive was really struggling, even the short singles proving taxing in the humid conditions. The first fifty came up quite quickly, Jock scoring all but a few of them.

Jock proved fallible when he missed a pull shot and was bowled. Jason came in but did not last long, and then Stringer finally middled a ball straight into the hands of the gully fielder.

Pete Smith scored with a few lusty blows, but it was Martin Smith who proved the revelation, as he steered Old Dartechs to a comfortable score of 130.

Andrew and Jason opened the bowling, with Jason having a really good shout for LBW turned down early on. However later in the over, and even better shout was responded to in the affirmative. Successions of young batsmen came in, but were out thought by good bowling by Bob Dunkley, who went on to take 5 wickets. Particuarly impressive was the legside stumping which Jock made look easy. Bob was later to claim this was done on purpose, but Jock wasn't so sure.

Colin Deal held two good catches to make sure he made a contribution to the match, and Martin chipped in with a wicket at the end to ensure that the tour got off to a winning start. We all retired to the Shepherds Rest where some of us would have liked to have stayed all night- however we had to make our way to Bristol, hoping that Cruickshanks map reading would improve.
---
v Swindon IV
70 for 10

Wickets

Runs

15

0

36

8

5

1

2

10

1

16

5

2

9

5

9 *

9

1

14

2

17

0

130 FOR 10 ---Won