---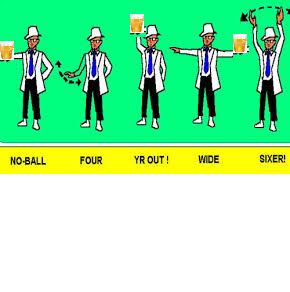 Match Report
---
28/07/2019 v CHISLEHURST
lost
---
narrow loss to Chislehurst
A much anticipated trip to Chislehurst awaited Old Dartechs Sunday. Last year the game was cancelled due to rain and for a long period over the weekend, that looked like a possibility again.

PT duly lost the toss but was still given the decision to bat or bowl and made the correct decision ?? to bowl 1st (longer teas obv.). Long-term opening bowlers Sam and Niraj gave us a good, tight start, both taking a wicket and a maiden each to keep the score to below 40 after 5 overs.

The squeeze continued with Jack and Harry 1st and 2nd change respectively, with 3 of the next 4 overs also maidens. Unfortunately for us though we could not dislodge the very capable opening bat for Chislehurst who fought through the squeeze and managed to bag a ton, albeit given some chances by the luckless Dartech fielders. Once Jack forgot how to bowl on the pitch and Harry being held back to scare their lower order, Jojo and Paras were brought on to add to our already youthful bowling lineup and all will agree, bowled very well. To keep the scoring down to 5 an over against a set, experienced batsman and a middle order trying to heave everything to the boundary as well as some 'dubious' umpiring and interference from the side lines, was fantastic to see.

A final score of 182 was well within our grasp. I must give a special mention to the tea provided Homemade biriyani, bahjis and samosas. A welcome change to the cheese and pickle of most weekends.

Our chase started well with Josh (31) and Will (23) keeping the scoreboard ticking over against some very solid bowling. There was also good starts for Tim (16) and PT (22), but the game required someone to bat long which the Ace attempted to do with a very solid 29 with only 8 coming from boundaries- the rest in 1's and 2's. He was supported by Niraj (19) for a while before the run rate increased to 8-10 an over. Some suspect bowling from their wicketkeeper, 4 bouncers in an over, prevented our boys from teeing off and keeping up with the run rate, leaving us around 5 runs short at the end. A great effort by the boys I must say when up against it.

We now look forward to the Run-Fest that is Kemsing!!
---
v CHISLEHURST
182 for 8

Wickets

Runs

31

23

16

22

0

1

24

29

19 *

3

24

0 *

1

26

2

40

1

23

0

34

143 FOR 6 ---lost