---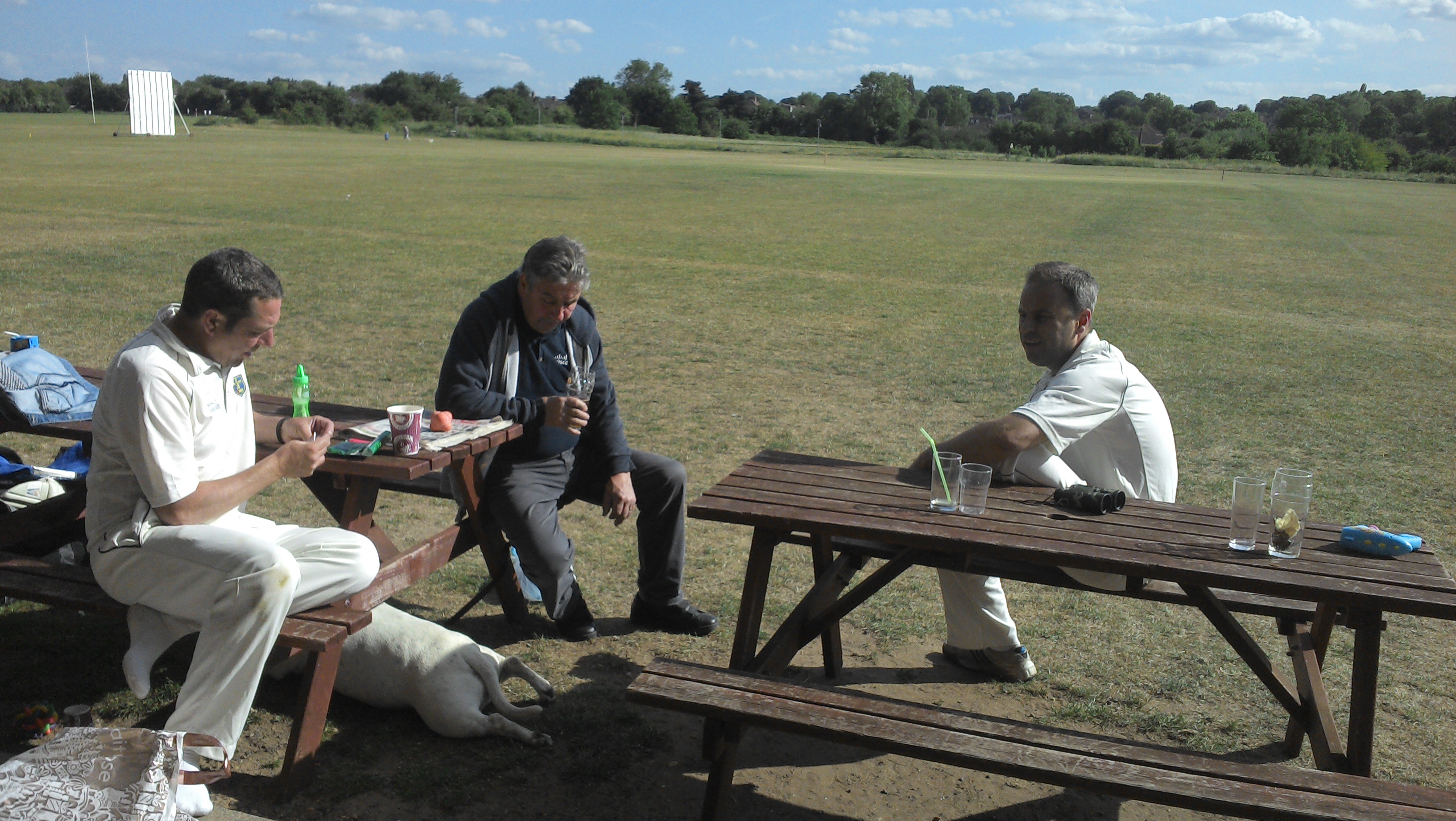 Match Report
---
02/06/2019 v Luddesdown
lost
---
Big loss at Luddesdown
It was a lovely day down in the valley floor that is the Luddesdown pitch.
Pete T won the toss but remained a tosser by deciding we should field first in the sun ?? We started great with Joe bowling a staggering four over spell and conceding only 2 runs. It was so good, he pulled a muscle and got a headache and had to go off for a 10 over break. Iíve heard rumours that others are now planning their mid game break next week and devising a booking system. The oppo helped us out by sportingly offering a player as cover.
However despite a great bowling start, rumours are rife of some match fixing. Ladbrooks have started an investigation as a result of their guy getting 100 but being dropped six times and being out LBW on 10 but no one appealling so the umpire didnít give it. If thatís not enough to invoke suspicion I donít know what is.
Special mention to Pete T who dropped 3, Sam Rogerson who dropped 2, Jason Allen (who claimed the ball disappeared 6 feet from his hands) therefore dropping one and Dan dropping one. Iím not sure we are keeping dropping records but thatís got to be up there. If we didnít achieve catches we sure did achieve fines.
Manikís first game for the club saw him bowling a great length and taking four wickets. He was congratulated by being called a jug evader and having to pay a fine. Dan bowled a great late spell to take three wickets and Sam took 2. Jason bowled a (pick your own filling) pie and got a wicket too. Jason bowled a lot of wides and was very sorry on each occasion! But we took 10 wickets and had them all out for 220 after 39 overs. Lovely tea once again even including trifle. Beautiful! Clive and Peg opened the batting and it was a slow start. What became clear as the innings went on, was that it wasnít easy for any one of us. The ball often died on the pitch that was clearly deteriorating quickly. It was hard to pick the non bouncing ball and we couldnít get it away. Clive and Peg scored a modest amount before getting out, Tim and Glen offered a small partnership with Tim bowled by a beauty of a swinging delivery pitching on leg and taking off stump for 17. Glen scored 31 before succumbing. Further players came and went, the most notable being Pete Smith who came, wasted 20 seconds getting a guard and then was bowled first ball. Two seconds after the ball hits the stumps, Pete exclaims ďWell thanks for that guys, Iíll be offĒ. To be fair it was claimed that he was bowled a beauty and having been bowled by the same guy as bowled me, I can well believe it. Jason brought the innings to an end once the game was gone turning over the score so whilst we scored about 120 ish, at least we didnít lose all of our wickets.
At least next week we can look forward to not batting on that dastardly pitch. What?..... Bexley Park you say?......... oh ffs
---
v Luddesdown
220 for 10

Wickets

Runs

13

6

6

17

31

5

0

37

0

12 *

1

60

14 *

2

54

3

29

0

2

128 FOR 7 ---lost