---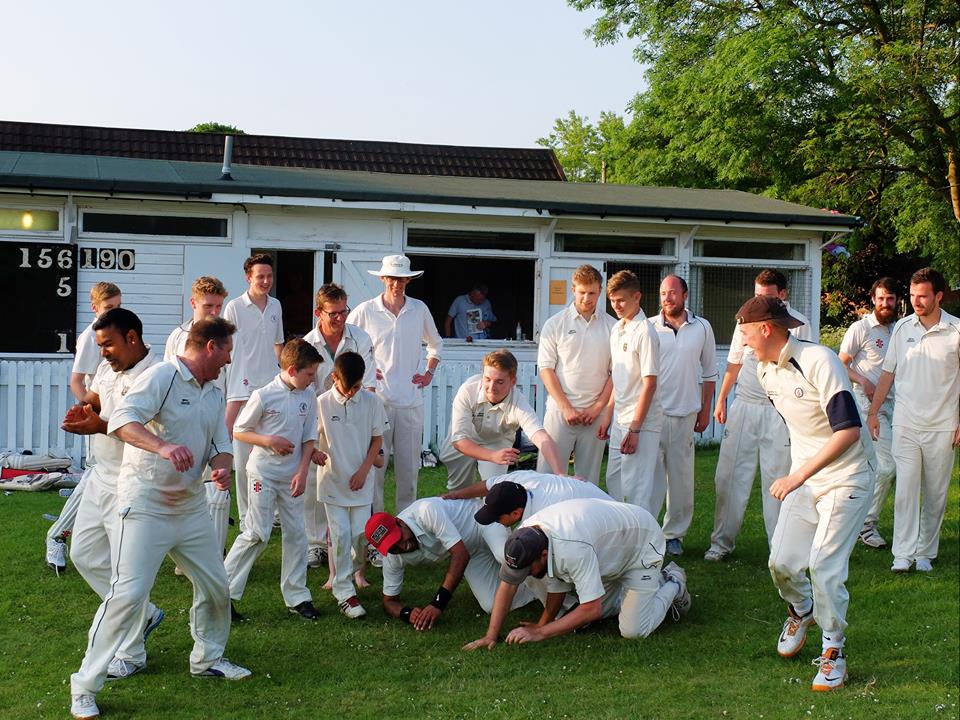 Match Report
---
19/05/2019 v Cobham
won
---
Fine win at Cobham Sunday saw our annual early trip to Cobham to play what is normally a very well contested match. PT won the toss and decided, on a pleasant day, to bat 1st.
During the week we looked like we'd struggle to even put a side out, but turned up with a very strong side, both bowling and batting wise. Josh and Pete Smith opened the batting on what was a dry wicket but played very true and seemed like 180 would be a solid total to aim for. Pete was unlucky with a short ball that lifted on him and was caught at backward point for duck. Josh and Clive rebuilt at a rapid pace with the pair putting on 55 in the 1st 9 overs before Clive was run out for 21. Small cameos from the middle order allowed Josh to move the scoreboard on before evading a jug by getting stumped for 49. The wicket of Jack brought in debutant Sheridan who, by his own admission, had never played cricket before and literally had no idea. Holding the bat like a golf club, he hit the ball to all boundaries for a superb debut innings of 19! We were, however, losing wickets regularly and looked like falling short of a decent total. This was avoided though through a very solid and good looking knock from Harry (41) aided by Niraj (20*). 204 all out looked a good score.
Cobham's chase never really got started due to some very tight and solid opening bowling from Sam (2-31) and Niraj (1-20). Our fielding was very good for a change, both catching and ground fielding which helped the bowlers build pressure and therefore impatience and mistakes from the Cobham batsman. Harry and Jack followed up with continued pressure and regular wickets to ease our way to an excellent 117 run win. Harry seemed to have grown an extra few inches and 10 extra MPH since last season, bowling with some serious pace and accuracy, finishing up with excellent figures of 3-17 off 6 overs. And Jacks promised rejuvenation this season was there to be seen taking 4-19 off 5, his best ever figures, which included a ball to take a hat trick and 5 for. Special mention to Mr. Taplin who took an absolutely worldy, left handed catch at mid-off. Definite candidate for catch of the season already.
All in all a very good win for the Tech, now onto Whistable for the bank holiday weekend.
---
v Cobham
94 for 10

Wickets

Runs

49

0

21

8

14

1

4

19

8

19

20 *

1

20

41

3

17

0

2

31

204 FOR 10 ---won