---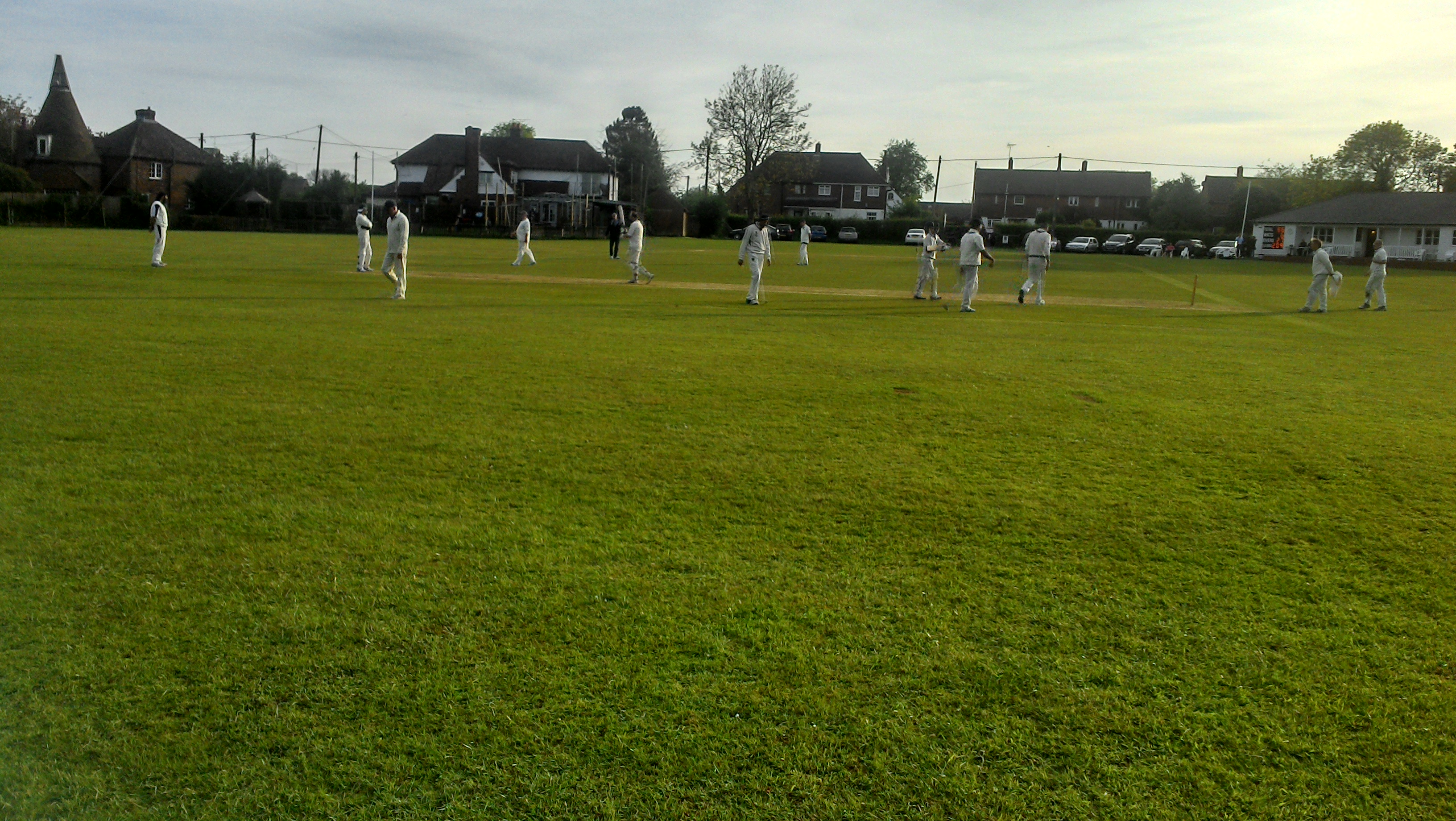 Match Report
---
01/05/2016 v Luddesdown
lost
---
Season starts with lively match at Luddesdown
At last some warmer weather , just in time for the first game at Luddesdown. We have never managed to start and finish a game here, so this made a welcome change and the sun shone brightly until the last hour or so. Numerous ramblers on an organised walk stopped to watch this quintessentially English scene unfold in the most beautiful of settings.

Billy Merrill opened the bowling and within a few overs was getting the ball to swing away much in the style of Merrill senior. He was unlucky to get more early wickets, but did manage to snare one of the openers with a lovely ball which pitched on leg and went on to hit middle. Unfortunately the other opener looked increasingly comfortable against a bowling attack of Nij and then Sam Rogerson and Danny Laidlaw. He went on to get 68 very valublle runs with a superbly judged innings on a slow track.

Pick of the other bowlers was newcomer Pankaj who bowled some quality left arm spin. He did mange to take a wicket, with a ball that hit the batsmanís pad and went onto hit the wicket. Not that the bowler had seen the stumps disturbed, he had already turned round and let out a huge appeal that could be heard throughout Kent.

The ground fielding was practically faultless, but the catching let us down badly, in all 5 went down, and that in part lead to a well over par score of 202 on this pitch.

Pete Smith and Pete Taplin opened the batting, with Clive dropping down after having kept wicket. Both looked at ease but struggled to get the ball way. Paul Allen came in and raced to a quickish 22, but it was Tim McArdle who injected some real power and pace into proceedings. He hit the ball immensely hard to all quarters and while he was in 203 looked on.

Unfortunately he missed a straightest delivery from their skipper and Old Dís never really looked in the hunt from then on, despite a steady 35 from Clive. We really needed someone to come in a hit a few sixes, which is how Luddesdown managed to score so heavily despite the slow outfield.

All in all though, it was a very good game played in a great spirit, and the balance of youth and experience in the Old Dís team bodes well for the season ahead.
---
v Luddesdown
167 for 8

Wickets

Runs

11

5

0

26

2

22

0

17

35

40

12

1

19

9 *

1

53

6

0

22

5 *

1

30

2

23

202 FOR 5 ---lost