---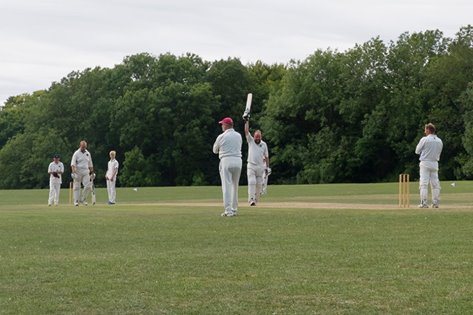 Match Report
---
06/09/2015 v CHISLEHURST
lost
---
Final game ends in defat
Old Dartechs lent Chislehurst 3 players to ensure this went ahead . Pete, Steve Rogerson and Bob were in the batting line up as Chislehurst opened up against some really aggressive and controlled bowling from Harry. Harry beat the bat time and time again with some beautiful outswing bowling, unfortunately the only snick whizzed past the geriatric Stringer standing in behind the stumps. The rest of the bowling attack nibbled away at the Chislehurst team taking the occasional wicket, but still the OD's trio were nowhere to be seen. Pete eventually game in at number 8 and actually saved the day to some extent as they were teetering at 109 for 6. Pete played a good cameo innings with a lovley cover drive from off the bowling of Jason being the highlight. In the end the total of 175 was more than Old Dartechs bargained for, especially as the captain had said they were a really weak batting outfit.

Tim let the youngsters start off at the top of the innings and Harry played some really cultured shots, as he raced to 20. Pete Taplin didn't last long, and Sam Rogerson only lasted one ball. Neil and Clive tried to rescue the situation but only Priddy found any form at all. Tim, Jason and Paul Allen also played well, and for some time it looked as if an unlikely win was on the cards. Eventually though the innings petered out.

Neither Pete nor Steve got a bowl, and Bob didn't even get to field. I would like to think that we would have given any guests playing for us more of a game.
---
v CHISLEHURST
175 for 7

Wickets

Runs

0

1

14

20

0

14

0

1

21

32

1

30

18

10

33

2

25

36

3 *

1

27

1 *

0

17

166 FOR 8 ---lost