---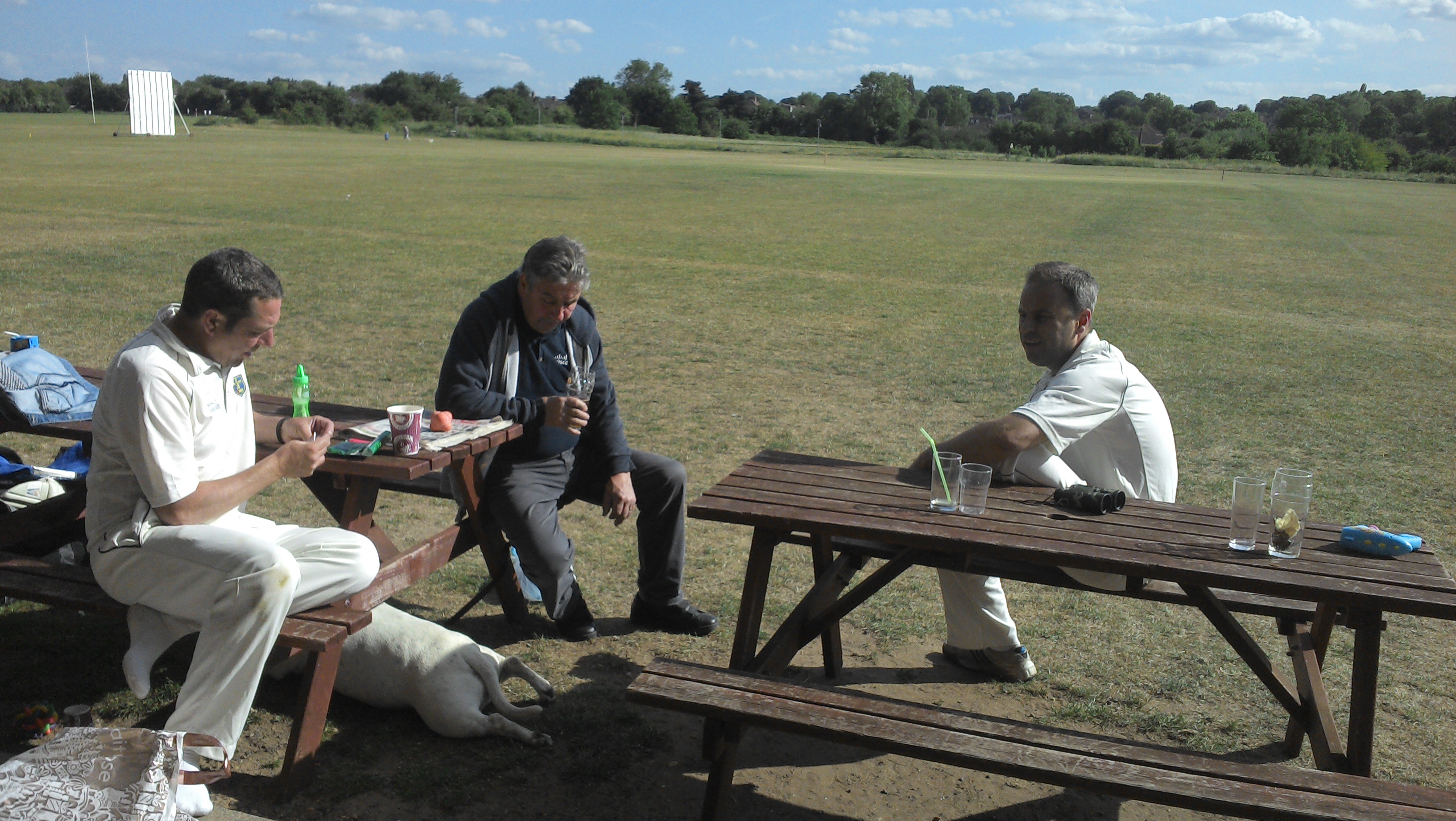 Match Report
---
17/05/2015 v Hadlow
won
---
First win of season
What a week - it's no secret that we struggled enormously to get a side together ranging from 10 on monday night to 7 on tuesday morning to 12 and back down to 9 again by thursday. Thankfully chairman Bob, his two fake hips and his gammon leg stepped up and we at least had 10.

And so it went as the old song says 10 men went to mow, went to mow a meadow, there was a rumour of 2 super subs heading our way from Bournemouth but with every travel update we got throughout the afternoon youíd be forgiven for thinking they were actually travelling backwards. So with the promise of reinforcements Tim managed to swag a bat first scenario. Jason and Peg started and ticked over nicely before Peg has a swipe with our score on 26 and Steve at no 3 was called upon. He played some superb shots and was looking comfortable before he too fell - this was a pattern to be repeated through our innings Tim Froggatt joined Jason and the run rate escalated nicely until one of our customary run-out debacles saw Jason back in the hutch.

Niraj fared little better top edging one which saw Pete join Tim, once again looking comfortable hitting a few lusty blows before feather edging one back to the keeper. Tim F didnít last much longer and we found ourselves on 80odd for 6 but enter Tim Mac and Leon who with nothing to lose had a real bash - a partnership of 62 was just what the doctor ordered Leon eventually fell for 24 and the end of our stint saw us finish on a hugely respectable 156.

On the turnaround Niraj and Peg opened the bowling for us and bowled well taking a couple of wickets but with a low score to defend Tim decided to mix things up a bit - enter Jason and Pete who both bowled well really tightening things up both bowled their stints with Pete taking two wickets and Jason taking a superb 3 for only 7 runs. Special mention should be made on one of Jasonís wickets when Peg took a steepling catch that seemed to be in the air for ever at a Deep mid-off. By now we were into the tail and with Steve and Tim F sharing one end Niraj also re-joined the fray and bowled superbly to mop up the tail taking in the end 4 wickets for 18 and Hadlow finishing all out for 98.

All in all was an absolutely superb performance from the whole team with everyone making positive contributions and bearing in mind we were a little short in the field the effort from all canít be praised enough.
---
v Hadlow
97 for 10

Wickets

Runs

12

1

22

17

3

7

9

29

0

2

0

4

18

6

2

31

35 *

24

0

0

14

0 *

156 FOR 8 ---won