---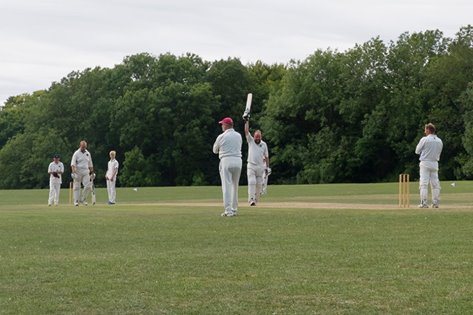 Match Report
---
27/04/2014 v Luddesdown
abandoned
---
Rain stops play at Luddesdown
So our season opener, despite early fears of a lack of bodies went ahead with a solid 10 from us, with a forecast that would have had Noah sweating it was surprisingly clement when we turned up at the first of this season's new fixtures namely Luddesdowne which for those who don't know it is a short hop and a jump from Meopham.

Now to describe it at idyllic would probably be selling it short as the set up and view surrounding the ground was fabulous and instantly goes up with Eynsford and Otford in the 'cracking venue' category. And with it being so close it really does set itself up as a top notch season opener.

An overs game was decided on and Jason won the toss and decided to field.

Tim Froggatt and Harry opened up the bowling for us and a cagey start was made by both sides with their openers taking a bit of time to get going but equally us lacking to take advantage especially as Harry was unlucky to miss out with two catches put down off his bowling (one easy, one not so) and Tim too was unlucky when one flew flat and hard just out of Pete's reach at long off when he could only just get a finger tip to it.

After this their openers opened up a bit having reached 70 odd for no loss – enter Pete and the skipper on the first change. Pete struck first bowling the more aggressive opener for 46 and Ace plugged away giving up nothing and showing the benefits of extensive pre seasons nets (take note everyone!!!) and in a spell which already will be hard to beat, produced a terrific 5 for 7runs off 8 overs. 'Ol bucket hands' Peg took 3 catches in the deep and Pete a smart one at point. A few spots of rain had started mid way through the innings and by the time we had reached the 35 overs required the heavens had pretty much opened. But the sterling 146 for 6 proved a great turnaround from what looked at one point could have been a lot higher. Sadly the weather proved the winner in the end but a corking tea was produced and a good couple of pints quoffed in the real ale drinkers and taxidermist's heaven that is The Cock Inn just around the corner (if stuffed badgers are your thing get down there without delay), although Peg went white when he had to order a pint of Fermenburger lager as it was the only one he could pronounce. All in all a good run out for the starter and a cracking fixture which goes straight in the draw marked 'Keeper'!
---
v Luddesdown
146 for 6

Wickets

Runs

1

11

5

7

0

40

1

28

0

15

0

13

0 FOR 0 ---abandoned