---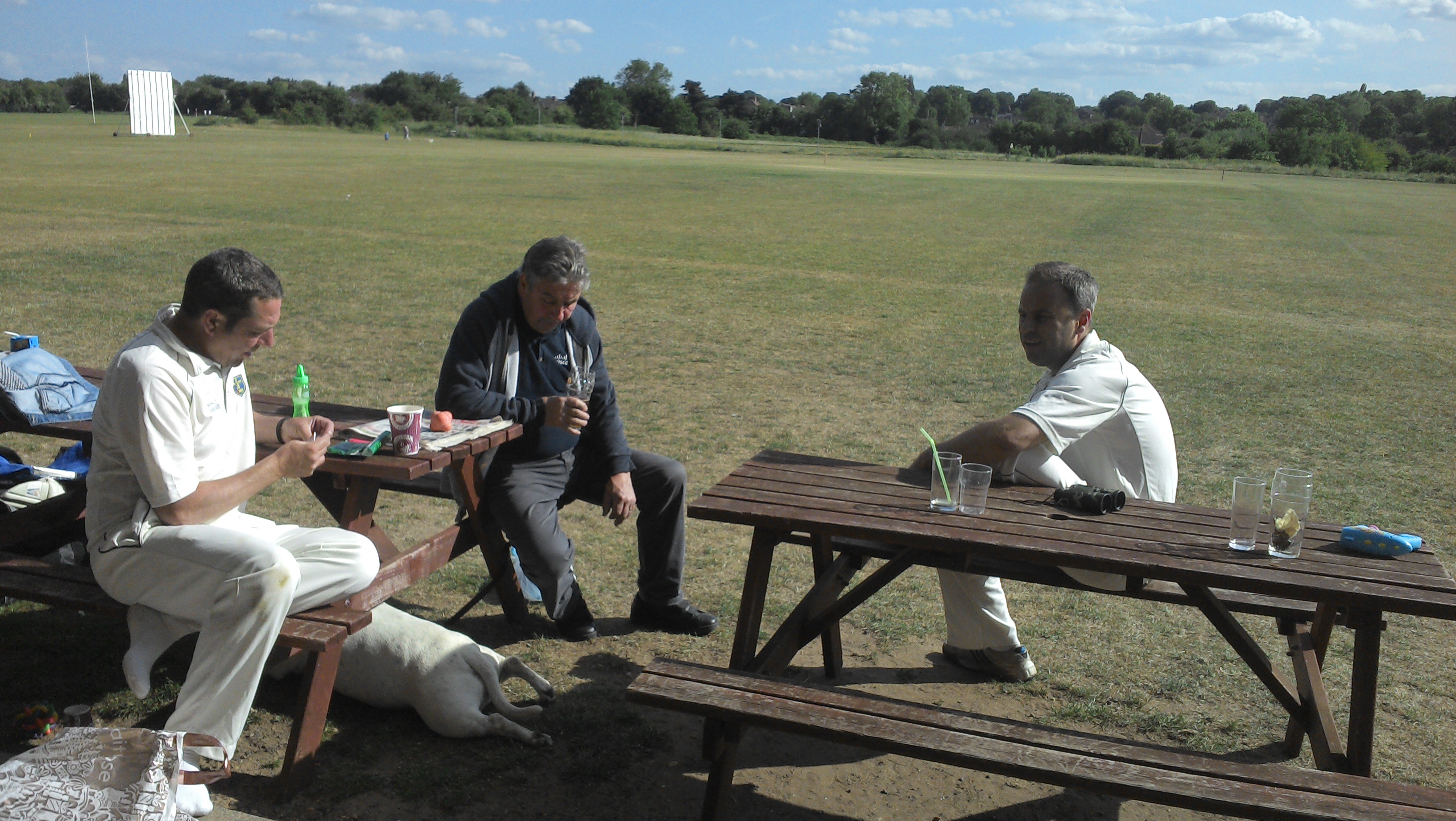 Match Report
---
28/07/2013 v Farningham
lost
---
High scoring match ends in honourable defeat
It's not often we see a match with 525 runs in it but with a very short tempting boundary at Farningham CC high scores were always on the cards.

Jason continued his remarkable record with the toss (insert your own joke here) and we found ourselves in the field.

James and (new) Pete opened our attack and the to's and throw's of the day began. The oppo got off to a flyer in the first 4 overs but both James and Pete clawed it back and we tightened things up significantly both were unlucky not to get more wickets and both bowled out with James taking one of the openers.

By this time the other opener has shown his quality and raced to his 50 and despite a superb effort from Harry who came on to claim two wickets in successive balls (including a bloke who had flown in from singapore for a golden) we had to laugh.

Jason took over from the other end and took a couple including a superb c+b but the wicket of the day had to be James taking a superb falling backward catch off of mitch's bowling despite seemingly misjudging it, we had to wait until he managed to unravel his arms and legs from the heap that he had landed in before we realised he had managed to hold it. A real contender for catch of the season. That finally dismissed the other opener who by this time had raced to 130 and Farningham looked on course for a good one.

To top it all the tail wagged and we were set the mammoth total of 288 to win. The turn round saw Adam and Tony start off, unfortunately Adam was the first to fall when he got a corker from the blisteringly pacey opener. Chris took over though and he and Tony really started to make some real in-roads into the gargantuan total. Chris just fell short of his 50 with 43 before Tim Mc came in took a risky run and kept going all the way back to the pavillion. Jason followed and scored well before holing out. Pete had no luck and was back in the hutch toot suite but we were still in with a shout.

Unfortunately that evaporated when Tony finally holed out for 80 and James and (new) Pete soon followed, with the win looking unlikely the next plan was to keep our score respectable, enter Mitch and Mark who accomplished that and more with aplomb even the return of the opening bowler didn't phase them as they put on over 40 odd in a great run dash in the last few overs. We finished on 237 for 9 fairly pleased with the effort, of course a win would have been better but in the circumstances its was a pretty decent performance by the whole team.

All in all a cracking game, a cracking tea and a fabulous fixture which has already been confirmed for next year great stuff.
---
v Farningham
288 for 8

Wickets

Runs

80

15

43

2

23

1

27

2

49

0

0

11

3

1

62

23 *

1

39

1

0

40

12 *

2

54

237 FOR 8 ---lost