---
Match Report
---
01/07/2012 v Whitstable Labour Club
drawn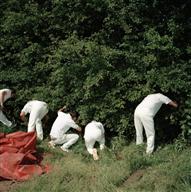 ---
Sam scores another ton in 60 balls
Well done to all our batter's who in just over 20 overs helped us post what I thought was a generous total of 148 for the oppo to chase in a rain affected game.
Sam Field in such belligerent form the start hitting the ball to all sides of the compass I was almost starting to feel sorry for the opposition at one point until one more than one occasion witnessed their fielders pretending not to know where the ball was when looking for it the rough only to see them pick it up rather quickly when we arrived to assist with the search ?
Well done to Clive for providing Sam with some noble support along the way and to Tim who when promoted up the order to deliver a few lusty blows to post our score and this was quite a luxury to declare without losing a wicket after having to retire our opening bat 101 not out : )
Our bowlers and fielders as they have for much of this season failed to let us down again with James D and Charlie the spearheads of our attack pinned the opposition back early on, they were then equally supported nicely by a tidy spell of bowling from Tim F who chipped in with a useful wicket. Unfortunately, we failed in a time game to take the final two wickets which ended up with us settling for a winning draw and hopefully a return match for next season in what I thought was a decent game of cricket in decent surroundings.
---
v Whitstable Labour Club
127 for 8

Wickets

Runs

101

1

15

23 *

18 *

2

13

3

32

0

17

1

26

0

21

148 FOR 0 ---drawn