---
Match Report
---
15/05/2011 v Elliott CC
lost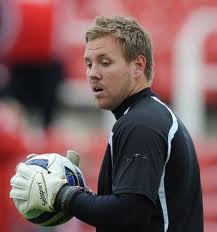 ---
Close game at Elliott
A storyof luck this game - all bad, in my 7 years or so playing for Dartechs I have never seen so many false shots or edges that race to the boundary, we think that Elliot CC must have scored 60 - 70 runs from edges that never found Sean gloves or a pair of clammy Dartech hands. In fairness they did score their share of quality shots but we matched them stroke for stroke when we had our go.
The afternoon started by Peg losing the toss and we were put into the field. We started well with Charlie taking the first wicket, that of Rob Elliott the Charlton goal keeper for a duck (stick to football I think). We then took a another wicket to get them to 30 - 2. Their No 3 should buy a lottery ticket as early on Sam had two edges in successive balls and then actually got through the defences and hit middle stump at the base for the bails to wobble and not fall off. They went on to 88 for three and raced on a bit to finally register 231 for 7 I think. With each of the bowlers chipping in with a few pie balls that found safe hands in the field.
Then for Tea Sandwiches 6 - Cheese, Egg & Ham (a fair bit of pickle in there) Savouries 8 - Spring Rolls, Pork Pie, Quiche, Sausage Rolls, Chicken Nuggets Sweets 8 -bonus point for caramel shortbread Quantity - 7 enough for a quick second visit Presentation 4 - My professional opinion Beverage - 2 polystyrene cups, whoever invented these should be shot Overall 7 Would easily enjoy it again.
then onto our response it is a massive credit to our improvement that we though we were in with a good shout to chase down 231. Chris(33) and Sean opened, Sean fell early for 4 I followed a few overs later for 6, this brought Sam to the crease and he started well. They then brought on their trump card. Elliott could race a ball down albeit slightly erractic.He slowed the scoring down during his 8 overs but we only lost 2 wickets during this period, the pick of the batting at this stage was Rich defending a rising ball with his chest he barely flinched although can probably still feel it now. I think they relaxed a bit and brought on some average bowlers here was our chance to race on with a few wickets in hand. Unfortunately we could not get the slower ball away and the run rate got up to 15 and over required. Then the opening bowlers came back and Sam took them to task scoring 24 off of one over, with "Carol" Smith updating the score board ball by ball we thought we might just get there but we had left a ourselves too much to do late on. Sam fell on 75 with about 10 balls left and that was the end of a valiant effort falling 23 short. Over 400 runs scored and 17 wickets in 7 hours a very good game that we just fell short in.
A big thanks to Chris and Rees for chipping in and playing their part in a good day. Chris please forward to Rees.
Tim F
---
v Elliott CC
230 for 8

Wickets

Runs

33

2

27

4

6

75

2

56

18

0

20

8

5

10

1

25

3

1

27

9

1

23

6 *

1

36

208 FOR 10 ---lost