---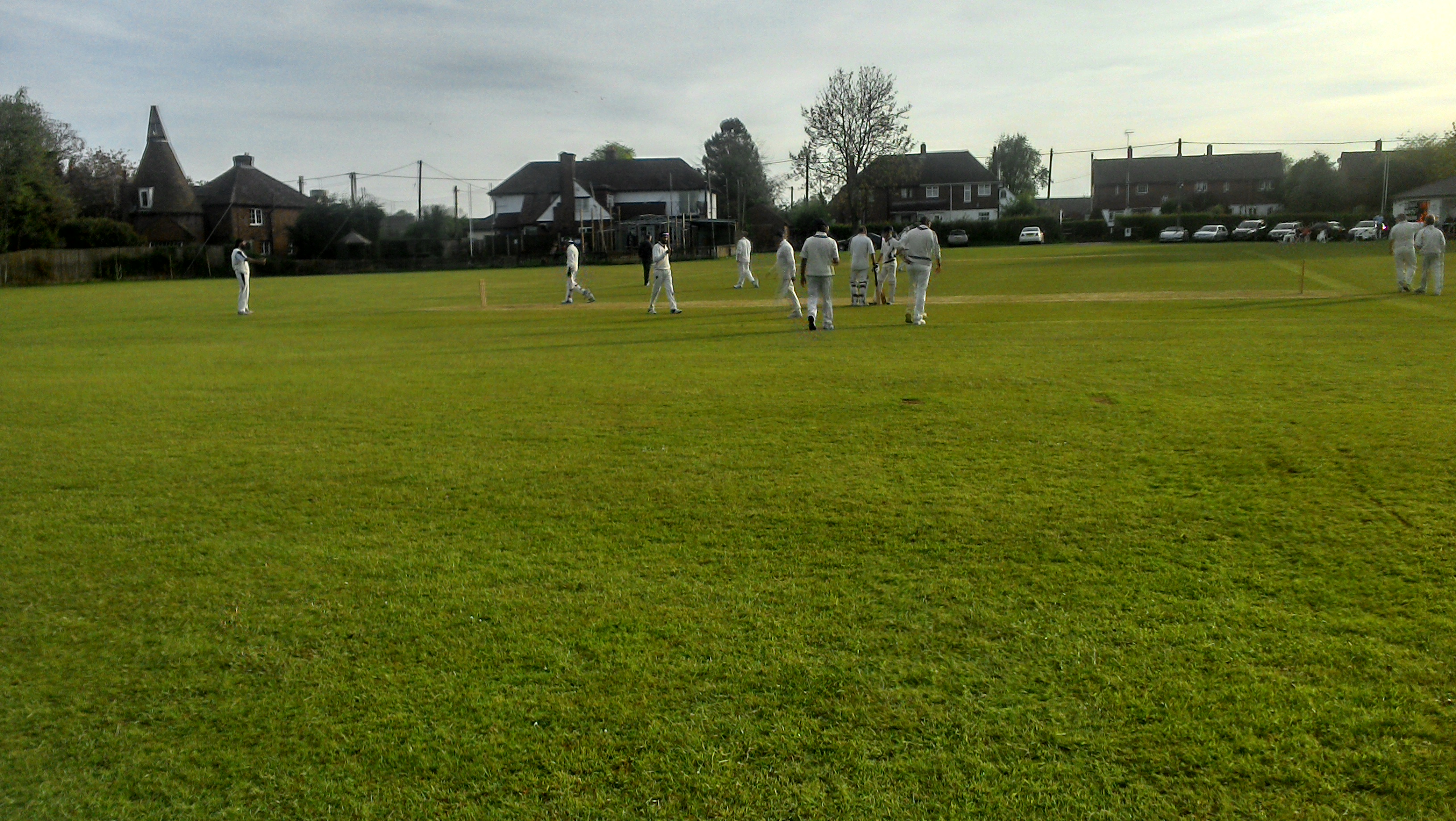 Match Report
---
14/08/2011 v MONTROSE
Tied
---
Tied match for Merral Trophy
t was right to say this this was a dramatic game keeping the watching thousands on the edge of their seats
I will keep this brief because it is Tuesday and therefore I barely remember what happened.
We found ourselves with 10 players before Tony (Daddy Billy as I like to call him) brought Billy to play and we seized our chance. We needed another player and upon asking Tony we were rebuffed with "I'm no good at cricket, I can't do it" etc. We didn't care and with the collective will of ten to one, Tony was emotionally pressured into playing. The man loved it!
With 32 of the 35 overs gone Montrose were nearing 200 with no wickets gone. It just wasn't happening even though the bowlers were close on a number of occasions. The track was good, the hands a little buttery and the outfield was fast. Billy and one other took a wicket near the end and the oppo ended up with 202.
We walked off the pitch feeling that things could have gone better but that it was not a disaster. We were a bit short of batsmen but there was a chance. Whilst we considered what was to come we looked forward to tea…. WHAT, NO TEA. Not since the London riots had you seen such bewilderment, fear and confusion. Morale was low but at the end of the day we always had a McDonald's drive through so we sent Amie off to give us the energy (fat) that we needed to bat.
Peg and Pete opened the batting. It wasn't long before Peg was adjudged to be out LBW by young Mark who was umpiring for the first time. Peg felt aggrieved feeling the ball was going over the stumps but because the Indian's did not agree to the review system for LBW's Peg had no choice but to walk off.
Pete saw the McDonalds had arrived and promptly ran himself and had a burger in his mouth within 2 minutes of ball hitting the stumps. Suspicious? We were.
With a slight revision of the order Charlie came in at 3 and promptly knocked the ball around the park looking in complete control and playing some lovely strokes.
Shaun came in and came out. It's a confidence game and someone needs a big bag of confidence, salt and vinegar flavoured.
Tim (author of this piece) came in next set about pursuing the game with regular run scoring and attempted partnership development. Unfortunately Charlie soon surrendered his wicket and in came Billy. Billy rode his luck a little but credit where it is due this boy has technique. With a partnership of 90 ish Tim got his fifty and Billy reached the mid thirties. Tim out for 61 it was Billy and Daddy Billy at the helm. Billy got out and so Daddy Billy, angry at seeing his son get out, knocked the ball out of the park as someone had sullied the family name.
We were chasing 202 and it came down to Mark and Bob (last wicket) at the crease. At about 201 runs, Mark hit a ball in the air and the outstretched arm of one of their fielders caught and then dropped the ball. We ran the run to tie the game. We had about 12 balls left to get one more run. We didn't need it because as they all huddled in to stop the single, Mark hit the final ball low but into the hands of their close fielder and was out.
In our magnanimous Dartech way it would be fair to say it was well deserved draw, a few good performances and a thanks to Tony (Daddy Billy) for stepping in and contributing nicely with the bat.
---
v MONTROSE
202 for 2

Wickets

Runs

0

0

29

6

42

0

20

0

61

35

1

37

0

1

42

3

18

11

0

28

1 *

0

22

202 FOR 10 ---Tied