---
Match Report
---
02/06/2011 v Ashburnham Arms
won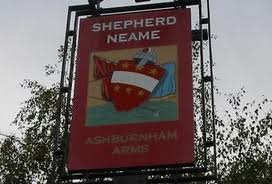 ---
Second game in Cricket Week
It was the annual jaunt to Greenwich park although unlike last year the sun was out and we didnít really struggle for light throughout the match. We won the toss and chose to bat. Adam and Sam opened the batting, Adam decided not to slow the run rate down too much and got out for 0. :o)
I came in and scored a steady and non wasteful 12 when I was beaten by the type of ball more conducive to a game of lawn bowls with the ball never leaving the ground once pitching. I consider myself rolled out and not bowled out! Sam was retired after hitting the 25 mark.
At this stage we had not set the world alight and our run rate was falling on the side of average. Chris Beard came in and we had hope, Russ came in and you only have to see his historical stats to know that we werenít hopeful here. Russ obviously spent time during the day putting a rabbit into a hat because he came to the crease and pulled one out of it. Some excellent strokes and a few Ox esq lumberjack overarm smashes saw Russ being retired once he hit his 25. Much better result than his golden duck the game before.
Pete came in next and with a few overs to go pitched in with some runs and ended I would imagine with a strike rate over 100 . Canít ask more than that! A respectable 123 was posted.
We turned around and hit the field with only 10 men but it didnít show. Jason opened the bowling and manged to bowl their most dangerous batsman in the first over. Game defining moment. A further wicket was taken by one of our bowlers (canít remember who) and their batsmen set in looking pretty useful and their score grew at the required rate. Jason continued his bowling spell when their batsman decided to tonk a big one over to deep mid on. I was at deep mid off. I noted to myself that I was not James Denman and in not being so I could react immediately and run towards the ball quickly. I will call it a gentle sprint, not quite sure if I would make it but as I got close and the ball neared the ground I realised I could just about make it, throwing myself to the ground I took the ball and the skin off my right hand and left elbow and thankfully the ball stayed in the hand. The stinging in the shower was all worth it. A dangerous batsman gone.
A few of the older generation came into bat and although a little rigid knew how to swing the bat and pull a four or two. Then in came Pete. You always know Pete will invite the batsman to give away his wicket, but 5 of them? This was only a 4 over spell but one by one they found themselves misreading the varying pace and picking out our fielders (a good catch by Richard on the boundary was one). Pete achieved his first ever 5 wicket haul.Pete almost had a sixth wicket but the ball just evaded the jump of Sam.
Great effort by Pete and I really enjoyed the jug afterwards. I personally think when we are not taking wickets we should utilise Pete a bit more because he has a nack!
Our score eventually proved too much for Ashburnam and we saw out the last few overs comfortably for yet another win. Sam, Russ and Pete as players of the day!
Great barbecue afterwards at the Ashburnam Arms was enjoyed by all.
Cheers Tim
---
v Ashburnham Arms
98 for 10

Wickets

Runs

0

25 *

0

19

12

16

2

14

18 *

0

0

24

27 *

6 *

5

18

0

22

123 FOR 4 ---won