---
Match Report
---
08/05/2011 v MEOPHAM
won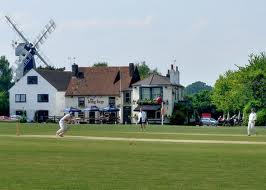 ---
Report from our cricket correspondant T McArdle
We all turned up at the ground to marvel at the triangular pitch on the green at Meopham and the fact that we could pub crawl between three separate bars all within 100 metres of the pitch. When I say we all turned up, I was busy talking to PC Plod about my going 42 in a 30 (The road outside Bobís house). Following my £60 fine and 3 additional points on my license, the police officer asked me if there was anything I wanted to say. Not a word of a lie I said I hope I have more luck playing cricket that I did driving. Oh the irony.
Having not studied the score card closely I can only offer a rough description of the game. Adam and Shaun opened the batting and Adam was soon out. I was in at three and forgot to tell Shaun I had my knee rigidly supported and probably couldnít run too fast. (I say probably as I was going to test it). Shaun then called a quick single and it turned out I was right and I couldnít run too fast and was subsequently run out for 0 without even facing a ball. We were never really dominating the game in terms of scoring even though there was a small boundary on one side. Charlie did however play a magnificent innings evading the jug by getting out on 49. Our final score 154 (ish)
Tea: Quality: 8 Well thought and nice tasting tea. Strawberry cake was to die for. Quantity: 7 Perfectly acceptable. Could have had more strawberry cake Choice: 8 Crisps in packets (always a winner), nice rolls, bit of fruit, nice cake, good nibbles. Overall Dining experience: 8 Everything on time and ready, enjoyed the choice, orange juice as well as tea for the purist rehydrationers (is that a word?) out there. Overall score: 31
I donít think anyone thought that we were in a particularly strong position at tea but after a great stumping from Shaun off Bobís bowling and 4 great wickets from Denman in short succession the oppo found themselves at 12 / 5 . Further wickets from Charlie and a good spell from Jason saw them restricted to a miserly 89 with me taking a deep catch off their main batsman to win the game. It must be noted that we took 5 catches that game and dropped nothing. Catchers were, Shaun, Matt, Jason, Adam and Tim (sorry if I missed anyone out If I did see the website for confirmation).
All in all a pretty spectacular drubbing, a good all round performance and our unbeaten start to the season continues.
---
v MEOPHAM
80 for 10

Wickets

Runs

1

6

0

1

3

18

49

1

14

17

15

19 *

1

4

13

13

0

1

27

156 FOR 10 ---won