---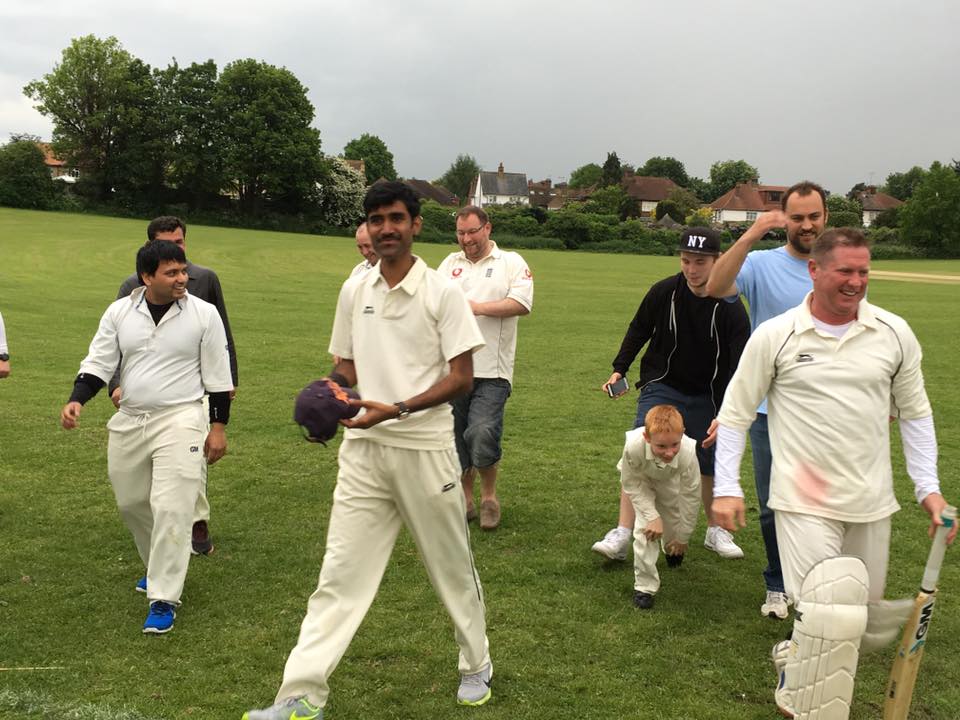 Match Report
---
04/07/2010 v MEOPHAM
won
---
Win on debut for Skipper Cooper
Rich, Peg what's all the fuss about? This captaincy lark is easy! The saying is tails never fails... rubbish, I called heads, won the toss and made the oppo field, the idea being we could all put our feet up and make them toil in the blistering heat. As we well know this doesn't tend to work for Dartechs, so i needed a cunning plan and decided to go with experience up front, step forward Adam and Jason... between them 528 appearances and more than 6900 runs.
Worked a treat, as twenty overs later I was taking drinks out to them, and telling them they could now play it like a 20 20 innings. They had done an excellent job in seeing off the better bowlers, setting up the innings nicely and putting together a partnership just shy of a hundred, with Jason getting his first half century for a looooooooooooong time, he seemed quite pleased with himself!
Now, if I may, I'd like to take a little bit of credit for a captains hunch that proceded to come off handsomely. Charlie strode out to the crease trying to stem the nosebleed he had from being in the lofty no three position, he joined Adam after the Ace had perished to a great catch by one of their fielders, unfortunately Adam soon went as well, trying to play a 20 20 shot, fair play in going for it though, with some big fellas (literally) down the order still to come it was the right thing to do.
Mark came and went to his customary LBW, time to start playing a bit straighter I think fella. But did make up for this with some decent wicket keeping later on.
So in came our biggest big hitter in Tim and he didn't disappoint, spanking the ball all over the place for a twenty five or so ball fifty which included a couple of giant sixes on the trot. Whilst Tim was showing off his unorthodox power hitting, Charlie, who had started a little nervously with a couple of scratchy boundaries to third man, was gradually starting to compose himself, find some confidence and started to time the ball sweetly. By the time I joined him with about eight overs to go I knew he was into the forties but didn't say anything, thinking it better to just let him carry on in his own merry way... right thing to do, as he whacked the ball out the ground to burst through for his first ever half century, on this evidence it shouldn't be the last. I scratched around solely scoring in singles to let Charlie carry on belting the ball all over and he finished with 70 not out. We had scored 260, a top effort.
Tea was very nice, your usual cricket tea fare but everyone tucked in like their lives depended on it .
I'd like to say I led my team out proudly from the front onto the field, but the reality was we all strolled out in dribs and drabs chucking a ball around aimlessly, some things will never change. James opened the bowling and with runs in the bank I thought I'd set a fairly attacking field with a slip and a gully, pah, James was bowling so well and quick that by the end of the over Dartechs looked almost professional with three slips, a gully, a point and a short mid wicket, it was good to see us on the attack for once. Typically though there were no edges and the first wicket was a sharp caught and bowled by James. After his batting heroics Chas was bowling well but with no luck on the wicket front.
Max came on as first change and bowled some tidy seam up, getting himself a couple of good wickets. Unfortunately for Matt at the other end though, he went for a bit of tap off of one of their old boys who swung and connected lustily with most things Matt tried, apart from the odd ball here and there I actually thought you bowled well though mate, so don't let it worry you. Luckily for us, but maybe not him the old fellas gout was giving him grief and once he had got to fifty he retired hurt not to be seen again.
Billy came on in place of Max, and bowled really really well, clean bowling one of their better batsmen with a great little delivery that drifted in and then moved away off the seam, even their umpire was impressed so much so he gave him an LBW decision as well later on in his spell. Although we were fairly comfortable and generally in control of the game, I thought some experienced heads wouldn't hurt in trying to wrap up the game, so who better to call on than the ODCC bowling legends that are Messrs Dunkley and Allen, with over a thousand, yes a thousand wickets between them. They didn't let me down Bob bowled well down the slope, which he found a bit strange but soon got used to. Jason got himself three wickets with some heart and soul bowling, I love fielding at long off when the Ace is bowling as you can hear him chuntering away to himself all the time as he walks back to his mark, geeing himself up meant I didn't have to, so long may it continue!
Bill's Dad had arrived back by now to pick him up, so I thought go on mate show him how well you bowled earlier and brought him back on to try and finish them off... didn't take him long, big shout for LB, up went the finger and we had won by an impressive 95 runs. Captain's never rest on their laurels and my one small complaint about our display would be a lack of concentration at certain points, I'm not sure if we started to think we had won already but there was to much chatting and messing about at times especially behind the wicket, which isn't fair for the batsmen especially as it was going on at times when our bowlers were starting their run ups. That aside everyone played well and it was a pleasure to captain a fantastic team performance like that. Well done gents.
---
v MEOPHAM
167 for 9

Wickets

Runs

36

53

3

17

70

0

17

0

51

11 *

3

26

1

26

2

9

0

30

262 FOR 4 ---won