---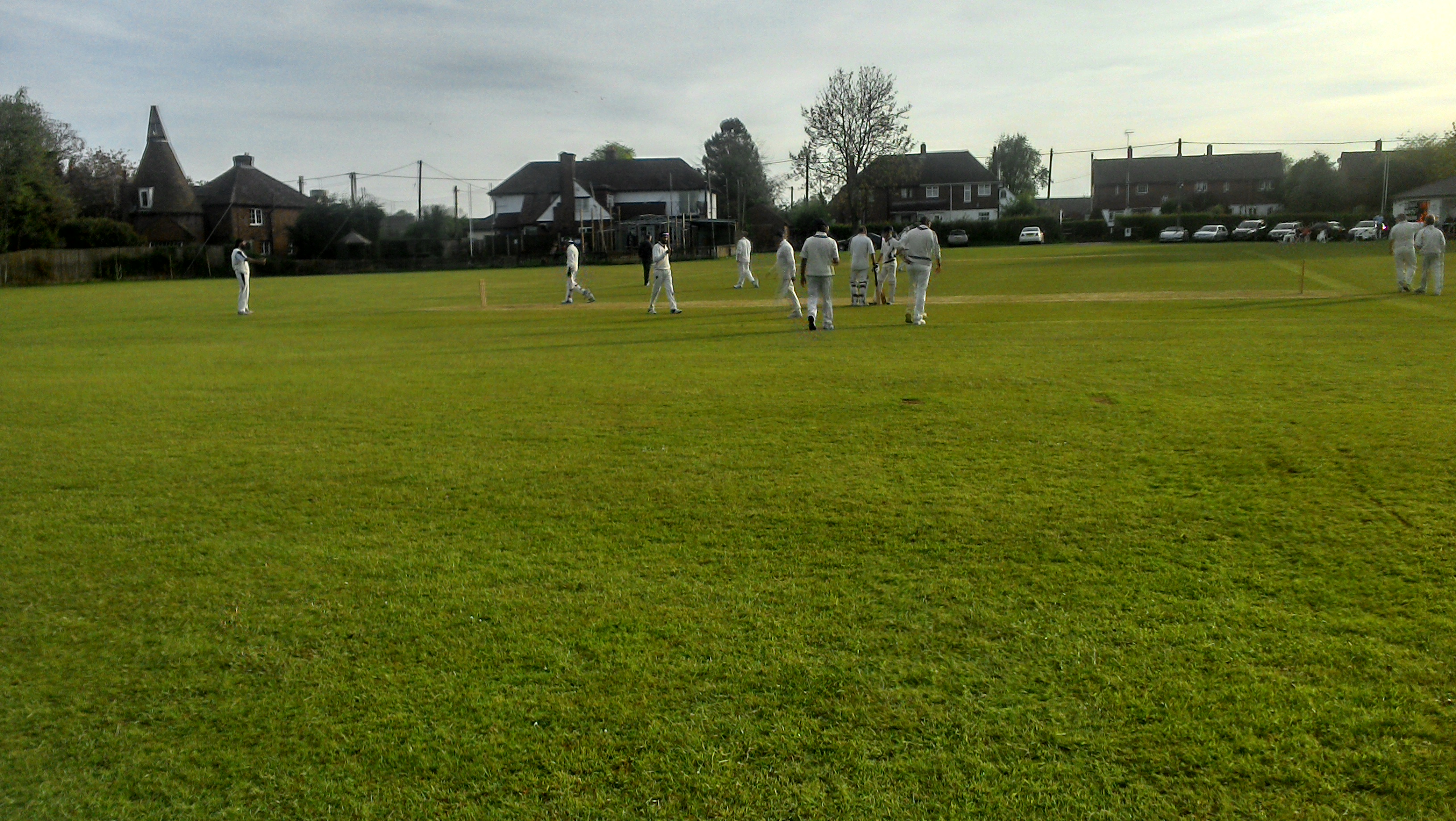 Match Report
---
06/09/2009 v Locksbottom Cc
won
---
Sam becomes yougest player to score a topn for OD's
On a personal note my day started pretty badly, up at 5.30 am to head off to work to do a morning shift and then once home i managed to fall down the stairs into my porch door turning my ankle over in the process. Surely the day would get better i thought, until i recalled our win/loss record for this season. Oh well off to my old stamping ground... Locksbottom (because i used to drink in the pubs around there way to regularly).
Ten of us hung around for a while trying to remember who our eleventh man was and then big Tony strolled in, the day was starting to get better and then as if by magic Rich won the toss and we were batting.
Having been cajoled by the skip into umpiring, it was my pleasure to be able to witness up close a quality opening partnership by Sam and Peg of 129 until Peg was bowled for a hard fought 36, this i think tells you how well Sam was playing. Peg did have a good moment when the chirpy "w@nker" (his own description not mine) decided to try and get Peg to play recklessly by exclaiming he "couldn't get the ball off of the square" two fine fours through the covers straightaway and he wasn't chirping so loudly anymore.
Rob joined Sam for his first proper knock for nigh on a year and played very sensibly on his way to a well accelerated 58no (10 4's and 2 3's which i think nearly killed him!)
Sam meanwhile was continuing on his merry way to a superb maiden century for ODCC, he was finally out caught for 109, 90 of which came in boundaries (18 4's and 3 6's) ensuring the Npower 6 and 4 cards the boys had found got plenty of use. Adam joined Rob and made a well constructed 26, the Npower cards didn't get quite so much use during this innings.
When Adam was bowled there were two overs left and with the captains orders to have a swing, i didn't need telling twice, 35 came off these two overs, 23no for myself including two lost ball sixes into the stream in a row, safe to say the oppo had had enough by now. We finished with a seasons best 266 for 3.
Tea was the traditional fare and was very pleasant, so pleasant in fact that Rob and i amused ourselves watching some random old fella snaffling egg mayo sarnies and apple pies into his pockets, we think he might have been the local wino.
So with plenty of runs in the bank and having the advantage of having seen how the ball was speeding across the outfield we decided to set a reasonably defensive field. Don't think James Denman was to impressed with the field his skipper had set, so he took matters into his own hands and smashed the middle stump of their No 1 batsman with a quick nasty yorker.
Once again Rob and i amused ourselves by recalling how this batsman just ten minutes earlier had been telling us how he had two games left this season to double his tally of 115 for the season..... never mind mate, still one game left!
The next two batsmen both got their eye in and played nice and straight, all of a sudden they were easily up with the run rate and our early confidence was visibly starting to ebb away, eventually Rob caught and bowled their main man and crucially we had opened an end to have a real go at.
The fielding today was generally decent with plenty of backing up and encouragement all round, special mentions for Adam who wore a nasty shin medal stopping a certain four and for Tony who having not had a chance to bat and knowing it was unlikely he would get a bowl showed superb commitment and surprising whippet like qualities in the outfield, well done fella, a proper team man. I think Rob then got his second wicket courtesy of an excellent diving catch by Max, i then nipped in with a couple of nice bowled's, strangely with the last ball of each of my first two overs, i asked the umpire if i could sack off the first five balls in my next over but unsurprisingly he wasn't having any of it.
Rich got the next crucial wicket getting their other half centurion to hook a ball straight down my throat. Charlie bowled well with what in our standard of cricket is pretty decent pace, he got his reward in the last over by trapping someone bang in front. He then proceeded to rib James because he had gone for two runs less in his spell..... little things eh. A quick mention for Max who came on and bowled some tidy off spin under a bit of pressure as there was still half a chance the oppo could make their target, but with Tony bagging a good catch in the deep off his bowling he helped to ensure we headed off to the pub comfortable winners in the end by 35 runs. Their final total being 231 for 8.
So an excellent win for Dartechs was celebrated at the Woodman in Farnborough, and Sam, i trust that piggy bank is being smashed open right now to get the jugs in next time were all together! Well played everyone.
Regards Stuart Cooper
---
v Locksbottom Cc
231 for 8

Wickets

Runs

109

36

58 *

2

53

26

23 *

2

21

1

21

1

31

1

29

1

30

0

32

266 FOR 3 ---won