---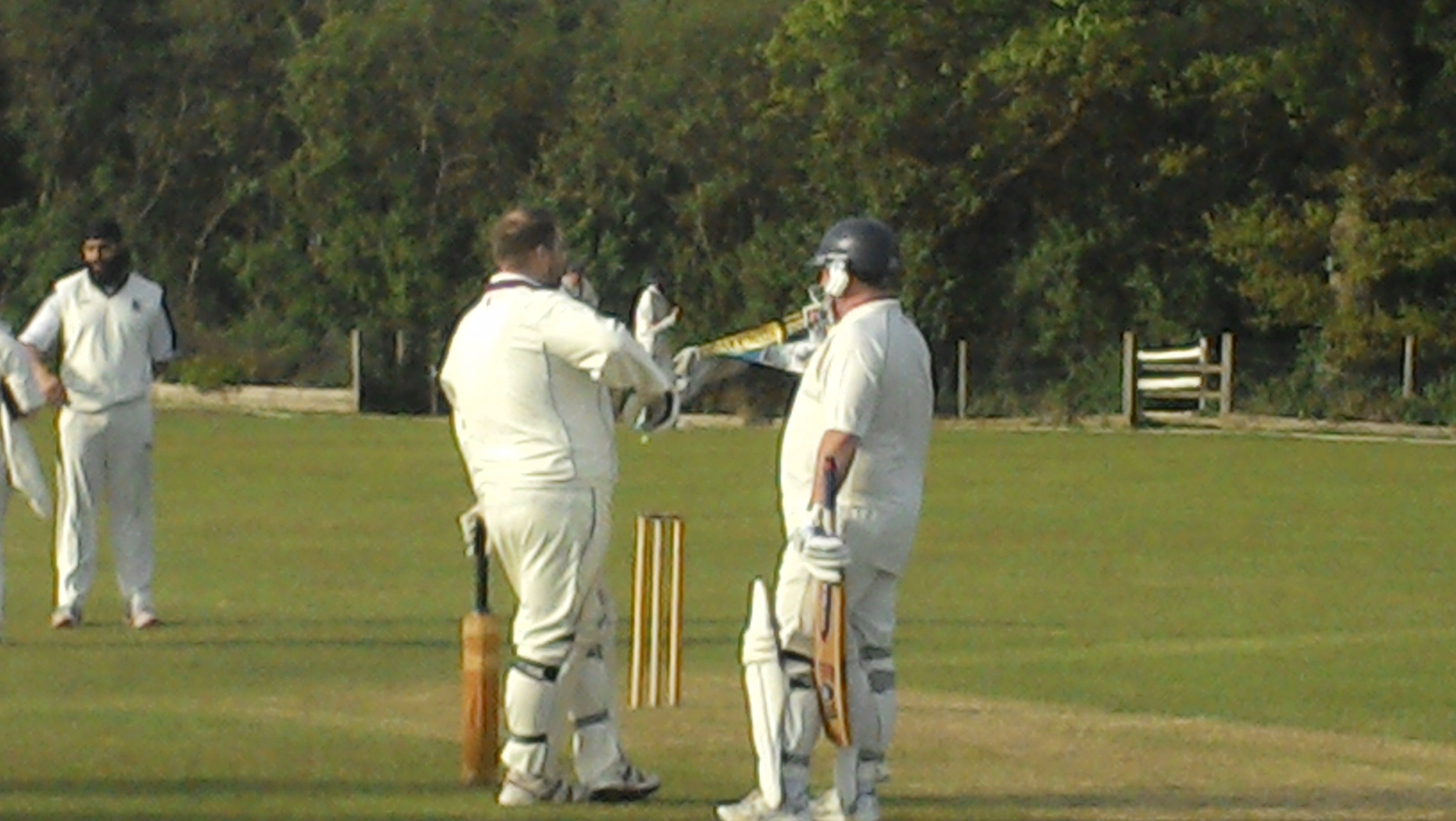 Match Report
---
23/08/2009 v WILMINGTON
lost
---
Denman's Dad steps in
It was sunny yet again as both teams looked down at the pitch before us. With both teams using it as their home pitch mutual apologies were exchanged for it's shiteness.

We chose to bat first having been so desperate for batsman that Leon was actually described as a 'recognised batsman'.

We started confidently taking 3 wickets for only about 40 runs. Brad was behind the stumps and had an excellent game there taking the first catch of the match from Denman's bowling. Stuart took the next two with an LBW and a bowled and we were on the way. Wilmington's Tim was at the crease and we almost had him out when Charlie dropped a catch that was hit right at him, I must mention that it was a drive and it was coming at speed and the way we have all been this season it was odds on that any Dartech player would have dropped it.

Wilmington scored a significant number of runs and our good start soon became an ok one. Their two batsmen at the helm scoring steadily but consistently. We were trying different options but not getting far. Then Matt came on the scene and like the Lord Saviour he turned the game back in our favour. I have heard rumours that the ICC are conducting genetic test on Matt similar to that of the South African 800 metre runner in order to ensure that he is in fact a boy and not a fully grown man.

Within no time at all, and having focused on bowling line and length and not chucking it down at speed, Matt had taken out their two established batsmen with Martin taking a catch in such a frantic fashion it was as if someone had just woken him up from bed and exclaimed that a ball was on its way to his head. A third wicket for Matt, a second from Denman (good stumping from Brad) and a run out finished off the days wickets for Dartechs. With a score somewhat around the 170 mark Wilmington banished the memories of their collapse against us last year.

With three recognised Batsmen inclusive of a 15 year old and Leon, we set out on the unlikely task of overhauling Wilmington's score. Leon and Brad opened. Brad was soon out for four after a good few overs at the crease. Extras scored well, Leon scored ten, I got 20 but was then bowled by what I can only describe as a cracking pearler. Stuart provided some masterful resistance and we held our heads up high as he reached an impressive but yet obviously disappointing 46. Matt, Denman and Martin managed to share a combined score of 0 as our next three wickets fell. We felt that a capitulation was well and truly on when something magic happened. (We didn't win of course but I witnessed something beautiful that day). Young and tiny Billy Martins and Pete came to the crease. Expectations were low but all of a sudden the ball started crossing the boundary repeatedly. Young Billy with the strength of a much bigger man (When they finish testing Matt they might start on Billy) knocking it to the boundary and holding his own. It was a good 15 minutes into their batting when I saw something I thought I would never see. Pete had been out there for while and had scored a couple of boundaries. Now I know runs can bread confidence but what I saw next almost defies description. The bowler (a perfectly acceptable one at that) runs in and bowls: Pete, as if he had mistaken himself for Kevin Pietersen, ran down the wicket and spanked - pulled the ball for four. I had a chair which was lucky because I needed to sit down after that. I don't think I've seen a better run down the wicket and pull for four than that by any Dartech player. Yes this is Pete I'm talking about. Amazing what a bit of confidence does for you. Pete eventually out for 16. Denman's Dad (can't remember his name) was in next filling in for Bob who had hurt his toe in a what was herculean stop of the ball earlier in their innings. Denman's dad even went out with the bat on his shoulder like Bob does. (Has he seen Bob bat before). With the first ball his stumps were parted like Ponting from the Urn that day (We won the f*****g Ashes..... Have that you Aussie b******s) Apologies for that explosion of colloquialisms but I think you may understand!). Apparently Denman's Dad got a cracking pearler also so unlucky start to his Dartech's career there.

Billy ended up with an impressive 16 not out but alas it was not enough. 40 or so runs short we did ourselves proud considering we were low on the batting front.

This is the last match report from me as I will now be on honeymoon (straight after the Chairman's match). Good luck with the last few games guys. Let's double our win tally for the season with one more win.
---
v WILMINGTON
211 for 8

Wickets

Runs

10

4

20

46

2

23

0

19

3

0

2

41

0

0

42

16 *

0

10

16

0

20

2

18

151 FOR 9 ---lost