---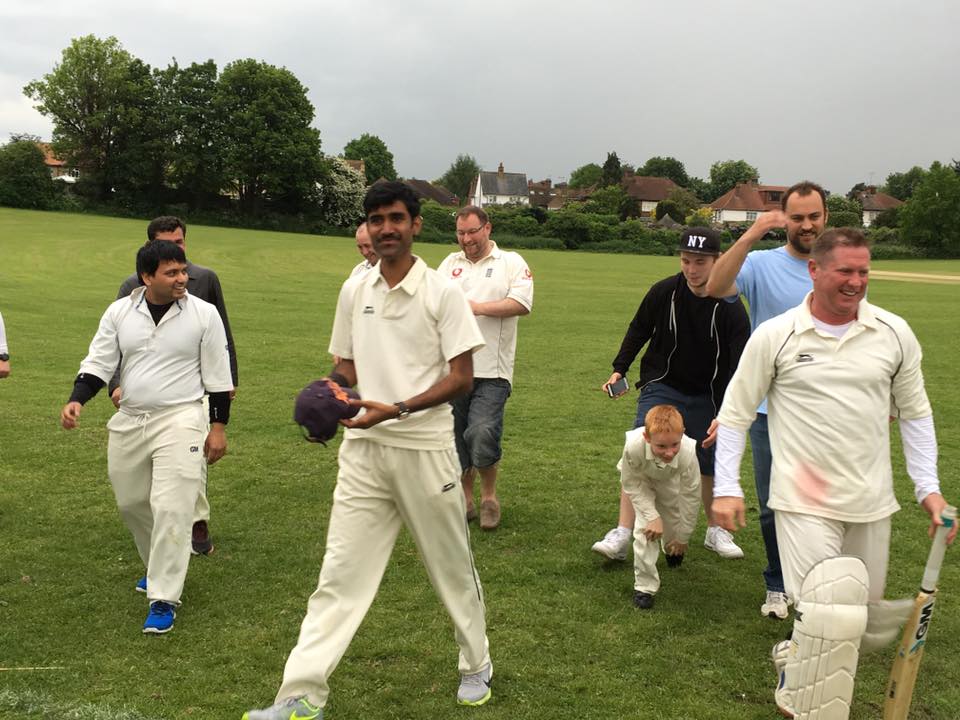 Match Report
---
19/07/2009 v Charlatans
.lost
---
Windy day at the Barracks
. So severe was the weather that two of our players got blown away before the match started. The remaining 9 players took to finding late additions with the same fervour that Mark shows towards getting sandwiches on his plate at Tea. Phone calls and texts yielded nothing. The opposition kindly offered us a 5 year old Josh to help us out and a little while into the game they provided us with another player to get us up to eleven.
Now sometimes you can judge the future of a game by the first ball. A good ball can get you on your way and fire you up for what's to come. Our first ball was wide and our wicket keeper for the day (Stuart) dived down and significantly injured his back trying to stop it. Gallantly (due to having no other options) Stuart carried on. It could of course only get better from there.
The bowling was pretty good all round considering we were dealing with a gale force wind. Peg got the first wicket of the day trapping his man LBW. Due to injuries we were a little short of bowlers which meant Adam had to come back into the fold for a full 8 overs. The opposition made some sort of 'Deal or no Deal' joke. Nobody laughed! Don't let anyone tell you otherwise. THE DEAL IS BACK.
The first over restricted the batmen to barely any runs. The good line and length proving good enough at this level. Adam took only a couple of overs to get his first wicket with the batsman clipping the ball to the feet of a new guy that we hadn't seen before. We noticed immediately that he was not a Dartechs player because he caught the ball! Cue a group huddle with "Well done mate, What's your name?" I didn't even see him come onto the pitch. Adam took his second wicket after a clear nick from the batman into the hands of the injured but effective Stuart. The guy stood there waiting to be given out by the umpire rather than walking like a gentleman. As a fair bunch we were disgusted that he hadn't walked and spent a good 7 seconds gesticulating over that point. However, we didn't let those seven seconds affect our focus except for maybe James Denman who dropped an easy catch, Mark Farrow who decided playing football with the ball that was coming at him in the air was a better alternative that taking the catch, and of course Peg who chose to let a high ball bounce off his knuckle over the rope for 6 when catching it properly would have avoided their scoring of runs and the potential fracture of his hand (however it wasn't easy by any means). Denman made somewhat of an amends by taking our fourth and final wicket of the day with a clean bowled. The home side restricted to a reasonable 183 after 40 overs.
Nice sandwiches for tea and two Ibroprufen for Tim (who had sore feet) Peg who had a swollen knuckle and Stuart who had a pulled back.
Adam Deal and Mark Farrow opened the batting. We wanted Adam to bat all day and the rest of us to support. Mark scored a few runs before being bowled. I was in at three. As I walked out I said to Peg "See you soon". Peg retorted "Don't be negative". 5 minutes later we were back together again pontificating over the merits of putting the front foot a good way forward to avoid a golden duck again next time. The wickets started tumbling but Peg held firm out there. Richard Parsons went in and I said to him "you only need to face more than one ball to do better than me" He didn't do better than me! He managed to match my underachievement with a first ball shot into the air and into the hands of a non Dartech player (again I note the evidence of being a non Dartech player was because he caught the ball). Stuart came out to bat walking like the victim of a vicious assault. My Grandma could walk faster. I had said to him not to make it worse as it wasn't worth long term injury for. This however was Stuart, and he is a trooper. Although he had a runner in the form of the (mightily slow for a young one Denman) he managed to spank the ball around the park for a respectable score and good support to Peg. Peg passed the 50 mark but sadly (and almost inevitably) it was not enough and we found ourselves all out with 40 or so runs to get to win.
Considering the depleted team it was a respectable performance and no one can feel too bad except maybe the two who got golden ducks. Trust me to be writing the first match report having got myself out first ball. I'm making sure I don't highlight it that much in the hope that no one remembers!
Keep in mind: When you lose many games in a row it can only get better...... or of course....... stay the same! cheers Tim
---
v Charlatans
183 for 4

Wickets

Runs

15

2

34

7

0

1 *

55

1

19

0

4

1

26

30

1

0

33

10

0

59

2 *

152 FOR 10 ---.lost