---
Match Report
---
03/06/2007 v London Nigerians
Lost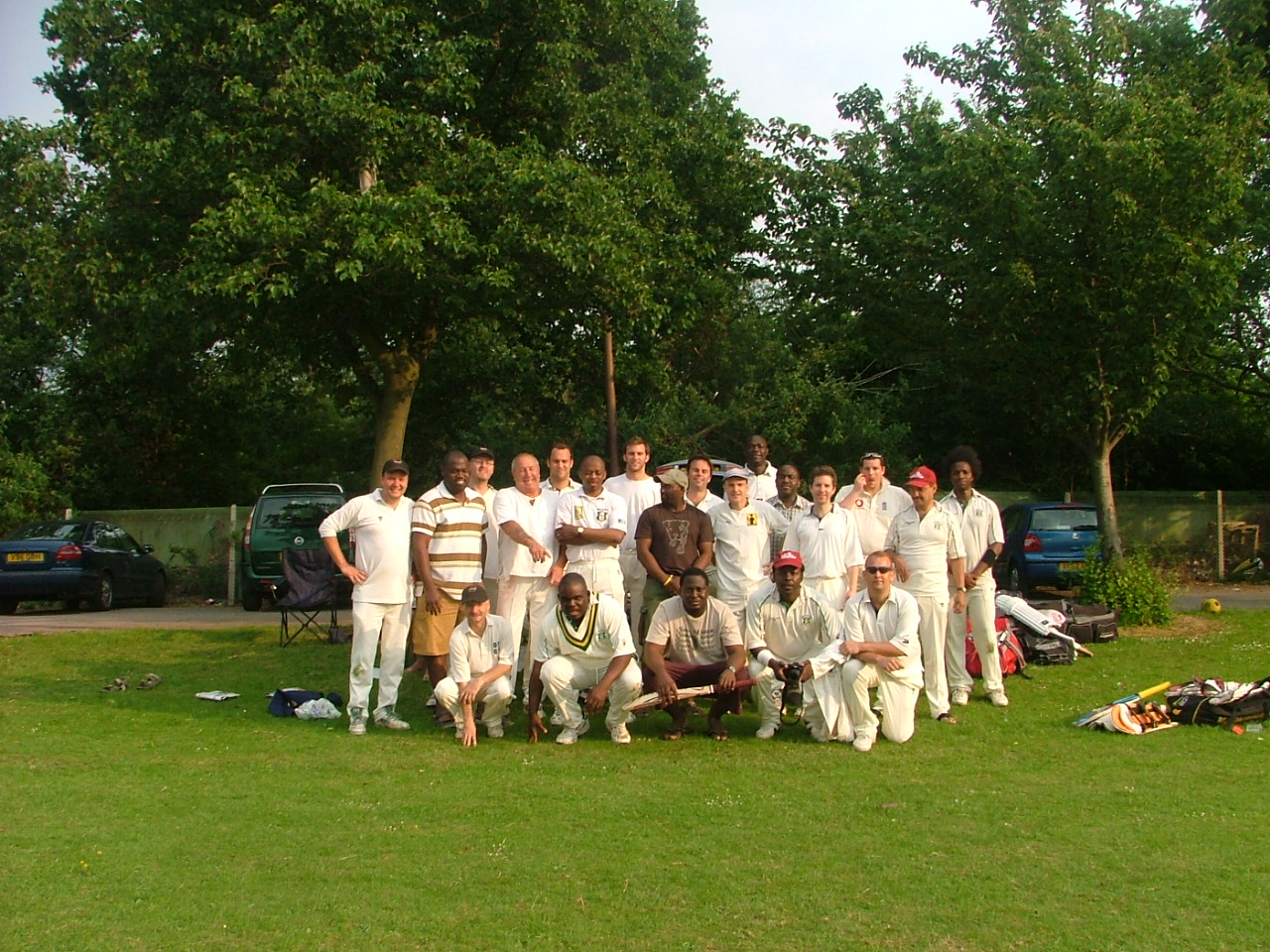 ---
Historic macth as Bob passes 500 Wickets
Bob took a magnificent 5 for 42 against a lively London Nigerians team. Quite how he did this with the lack of support from his fielders is a mystery. (Might as well get this over and done with- I dropped two easy catches , , we lost and it was all my fault !- CS.)
It all started off well for Old Dartechs despite an early exit for Mark Cooper. Clive and Tim put on 83 for the second wicket, with Tim hitting some belligerent shots of the back foot through the covers. Clive also managed a few less dramatic boundaries but with some positive running between the wickets the score was racking up nicely. The Nigerians then brought on two new bowlers, and the pitch started misbehaving. The runs dried up slighlty and a dramatic collapse ensued, as against the fast straight bowling an number of LBW's were given. Stuart and Pete Smith scored a few runs at the end, but Old Dartechs were all out for 131 in 36 overs.
A lovely "tea" of curried chicken, rice and fried potato and mango (?) followed. Chris had even got some lager to go with it.
We thought we probably did not have enough runs , but the Nigerians had reveresed their batting line up, and Stuart and Bob soon had them reeling at 10 for 4. Thatís when the dropped cathes occurred, and intead of being 15 for 6, the score started rocketing with some extremely aggressive batting from the number 3. He hit the ball miles ! (we later found out he used to play for Nigeria- is this the first time we have played against an international criketer ?)
When things were looking bleak at 92 for 5, Stringer finally clung onto another skier, trampling all over Howard as he did so. (Sorry Ant- you will have to shout louder in future, I'm going deaf as well as blind in my old age).
This hastened another collapse and at 97 for 9 Old Dartechs thought thy had it in the bag. However, Bob and Stuart had bowled out their overs, and although Richard looked likely to take a wicket, there were a few loose balls which the last wicket batsmen started putting away to the boundary. Skipper Coverly made the "brave " decision to bring on Adam, who hadn't bowled for a year asnd who had been hobbling around the outfield with his bad knee. A few legside fours later. Old Dartechs had snatched defeat for the jaws of victory.
This however was a wonderful match all in all, with Bob passing 500 wickets, and played in a very jovial but competitive atmosphere. The Ruby at the break served out of foil containers on the outfield will take a bit of beating for Tea of the Year as well
---
v London Nigerians
134 for 9

Wickets

Runs

30

5

53

2

2

0

0

14

14

3

50

0

0

12

6

8

1

14

3 *

5

42

131 FOR 10 ---Lost