---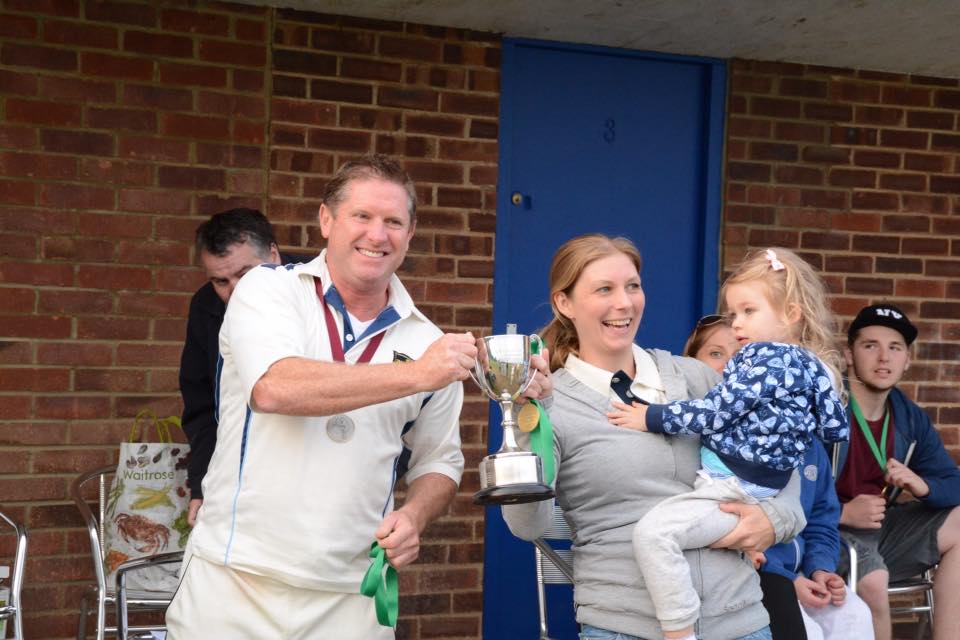 Match Report
---
08/08/2004 v Flying Ducksman
lost
---
furiously hot day greeted us for our match with shared hosts 'The Flying Ducksmen' at Waller Park this Sunday.

Richard, back on skipper duties this week lost the toss leaving us with the unenviable task of taking to the field in scorching conditions. Adam's muttering of 'Useless tosser!' was duly noted.

Bob and Richard opened our attack both getting into their line and length early. The first wicket, of sorts, came early when the opener appeared to play around one of off Richard there was a sound, Tim Mc took the catch and the Umpire lifted his finger and under a small cloud of incredulity the batsmen traipsed off. Then the other opener questioned the decision citing the other bats honesty as a walker. An agreement was made that it was an appalling decision the consensus being that it had come off his pads and he was invited back to the crease. Leaving more than a few of us, a little bemused.

The wicket by now was clearly offering nothing. Rich and Bob were both bowling well but with no luck at all. Bob finally made the breakthrough removing the opener when the score had moved on to 59.

Adam and Stu took over and equally had no luck and the Ducksmen were now scoring easily. A change of tactic was called for and Pete and Tim F took over with the instructions to keep things tight. A good effort at which was made and for next eight overs the Ducksmen found runs hard to come by with Pete taking a wicket, clean bowling the other opener in the process.

With just a few overs to go the batsmen started to get on top again. Stu and Adam came back to finish the innings this time swapping ends to immediate effect. Adam started with an lbw and Stu with the first of three bowled's which included two off the last two balls of the innings leaving him on a hat-trick ball next time. The Ducksmen including one with an innings of 92 has finished on 208 for six

Our reply was headed by Richard and Mark. Needless to say that while we were having tea the inevitable change in conditions occurred with low cloud coming in and even more humidity in the air.

A slow start was interrupted when Mark's recent good form deserted him when he lost his off stump to an in swinging yorker. Stu followed and faired little better against the Ducksmen's considerably nippy openers clipping one to the wickie leaving us on 17/2

Adam joined the Skip and the ship was steadied somewhat. The opening bowlers were duly seen off, however although they put on 40 together the run rate required was beginning to look a little daunting. Richard, trying to push things along, fell next being bowled for 18.

Enter Bob who having had a look at the spin now on offer, promoted himself up the order but disaster struck when both he and Adam falling in the same over our score now on just 63.

This left the two Tim's together out in the middle with the tricky task of making a fist of our innings Tim Mc though fell foul when he skied one and departed for just 4

Pete joined Tim F for a brief flash but once again to his annoyance misjudged a ball that clipped his leg stump. Little Simon didn't fare any better and with Tim F soon heading back having scored 22 this left Eoin, our international hurling superstar and the now legendary - Johnny S with the Herculean task of saving our bacon.

Daunting it may have been but both set about the task with impunity, With John dismissively dispatching the bowler for a couple of boundaries and Eoin finally scoring the runs that he has been threatening to get for some time. However it all proved to be a little late when having put on 20 together Eoin finally fell to a bit of spin and we were left all out on 115.

It wasn't all bad though as the Ducksmen turned out to be a great bunch and joined us after at the Chequers for a barbecue and the rare treat that is 'The voice - The feet!'© - Chris Beard Esq. (available for weddings and bar mitzvahs!!), performing his 'Swing thing' to the delight of all. - Top stuff!
---
v Flying Ducksman
194 for 6

Wickets

Runs

18

0

44

4

4

3

32

20

1

41

22

0

40

0

1

18

4

6

1

22

6

0

8 *

115 FOR 10 ---lost