---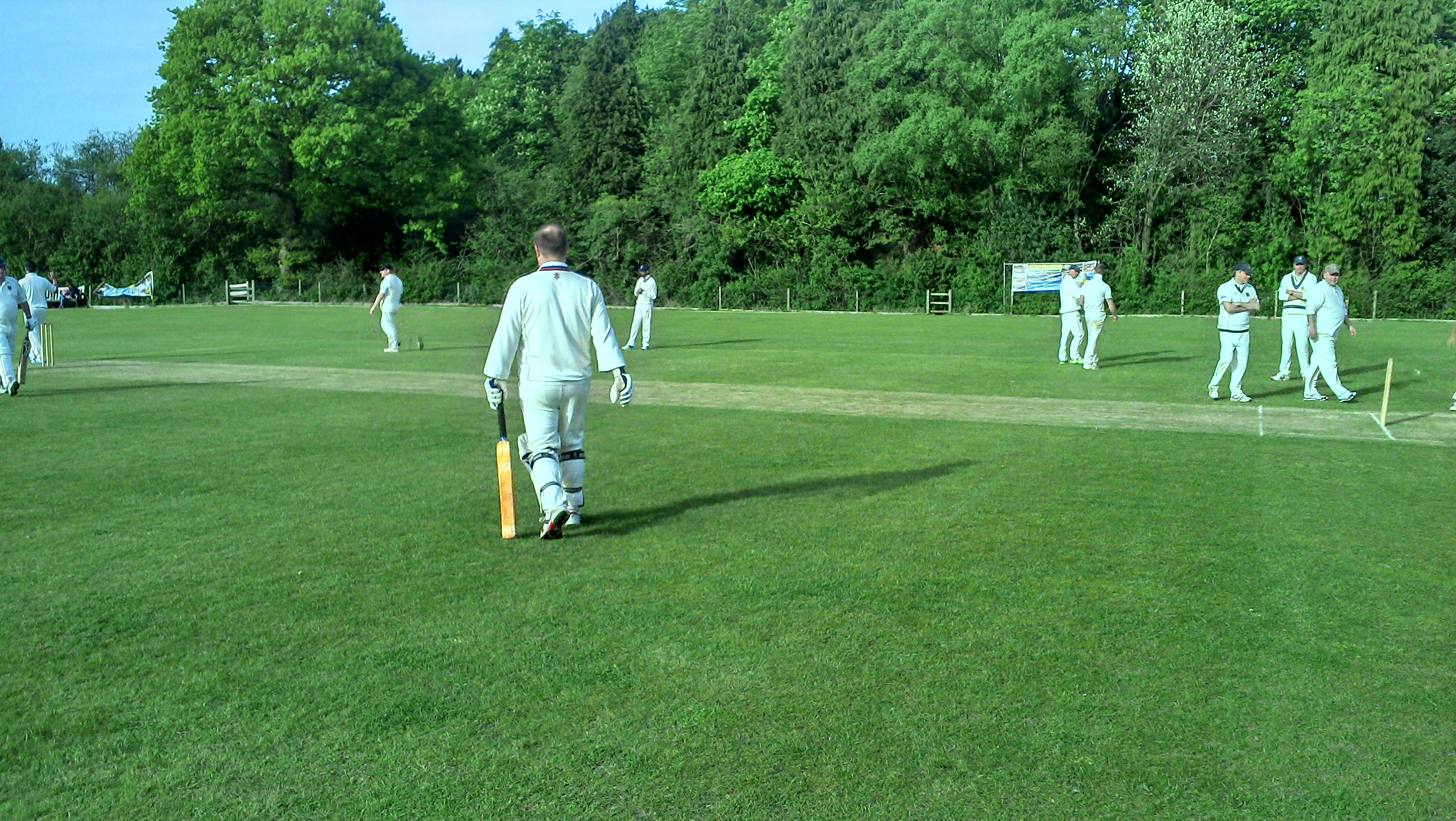 Match Report
---
04/07/2004 v Caterham CC
.
---
Forget Wimbledon; forget the French formula one scaletrix competition, the kebab munchers and their Mickey Mouse cup win and the English one day international debacle. The only sporting event of any note this weekend was ODCC finally completing a full match without outside interference. Although the weather did its damnest with its constant dreary drizzle.

A short hop down the M25 saw us find Caterham on the Hill in good time and after a bit of searching round the houses the ground was located and all systems were go.

Caterham 3rds were our opposition but even we were surprised when the team to meet us comprised of three quite portly gentlemen and what can only be described as a gaggle of 13 and 14 years olds including a wicket keeper just a foot taller than the stumps. A few wry smiles were definitely seen as we made our way to the changing rooms where quite ashamedly we turned into 11 'fast show competitive dads' with the cry of 'lets destroy them' being heard more than once.

Neil and Tim F duly opened the batting for us and after a brief dalliance Tim quite sportingly decided to clip one through to the 2ft 6 wickie but hey not to worry - they were after all just nippers?

Neil was next to go (in his defence) to one of the grown ups for just 6, and not long after that Tim Mc was caught for 7 with the score now a little worryingly 33 for 3

Mark joined Adam and our first partnership was formed - 16, with Mark falling for 12

Its worth saying at this point that its not so much that the front five were playing badly (they were a bit) but that would take away from the youngsters bowling which on a wet damp pitch was nippy and accurate with all getting a good line and length - collective gulps were being made on the boundary.

Pete was next in and with Adam set about steadying a rocky boat with a partnership of 40 however he was next to go when he unluckily got an inside edge which struck his foot and gently rolled back to glance the off stump dislodging the bail in a motion that wouldn't have looked out of place with the ultra slow motion tornado cam (some would say very similar to his running).

Ajay followed and despite playing a few nice shots pushed one out to gully where a good catch was taken, which found Bob coming in for a last few overs dash in which he scored a typically flamboyant 14 only to be bowled, leaving Martin to come in for the last couple seeing out the innings with Adam who finally got his 50 with an over to spare. This left us with a very hard fought 131 for seven.

An enormous tea followed and a rather curious tale from Amie from her first week working in A&E. Which (for reasons of decency) cannot be repeated here but left us in no doubt that the myth that 'an apple a day keeps the doctor away' is in fact a load of old hogwash! Then as per normal too much cake was consumed and the first few overs comprised of a fair few beached whales trying desperately to 'run it off a bit'.

Tim F and Martin started proceedings with the ball for us and straight away Tim made up for his indistinct batting display by taking the first wicket when the batsmen gloved one through to Tim Mc - on stumps duty, and quickly followed that up by having a skier taken by Pete (in his now customary circus style) and another pushed straight to Adam at a short Mid off.

Martin followed that up by bowling the wiley old opener. Then Bob taking over from Tim took two quick wickets bowling them both in successive overs leaving the home team floundering on 18 for 6.

As is often the case with younger teams it seemed apparent that their line up was mainly comprised of bowlers but the next two batsmen put up a sterling bit of resistance and managed to put on forty runs and for a while, seemed to be scoring with considerable ease.

Neil proved the foil eventually though having been unlucky in the previous over when Tim Mc and Tony tried to poleaxe each other, both running in opposite directions to a ball coming down with snow on it for a keystone cop style collision which whilst hilarious, also had us cringing in an 'ouch that had to hurt' style musing.

The breakthrough came from an inspired piece of field re-positioning from the skip with Tim F taking a good low catch from a mis-timed cross the line shot at a very short mid on. This was followed up in short order with two more catches from Tim Mc and another from Adam at square leg.

Ajay and Mark finished off the bowling both being unlucky not to take a wicket with some good accurate stuff. And so at the close Caterham were left on 72 for 9. Not the strongest of matches but good fun all the same.

Special mention must go to Eoin and Tony G for stepping in at the last moment and getting us an eleven and also Bob's friend, who publically performed for the first time Saturday night in the Prince Charlotte his party trick of diving from a barstool headfirst into a bucket of water. The story of which had us all in stitches in the Pub after - he has now been officially invited to the end of season dinner.

The man with the apple has not!
---
v Caterham CC
85 for 9

Wickets

Runs

0

3

8

6

3

18

7

55 *

12

0

9

15

4

0

9

14

2

30

3 *

1

9

131 FOR 7 ---.