---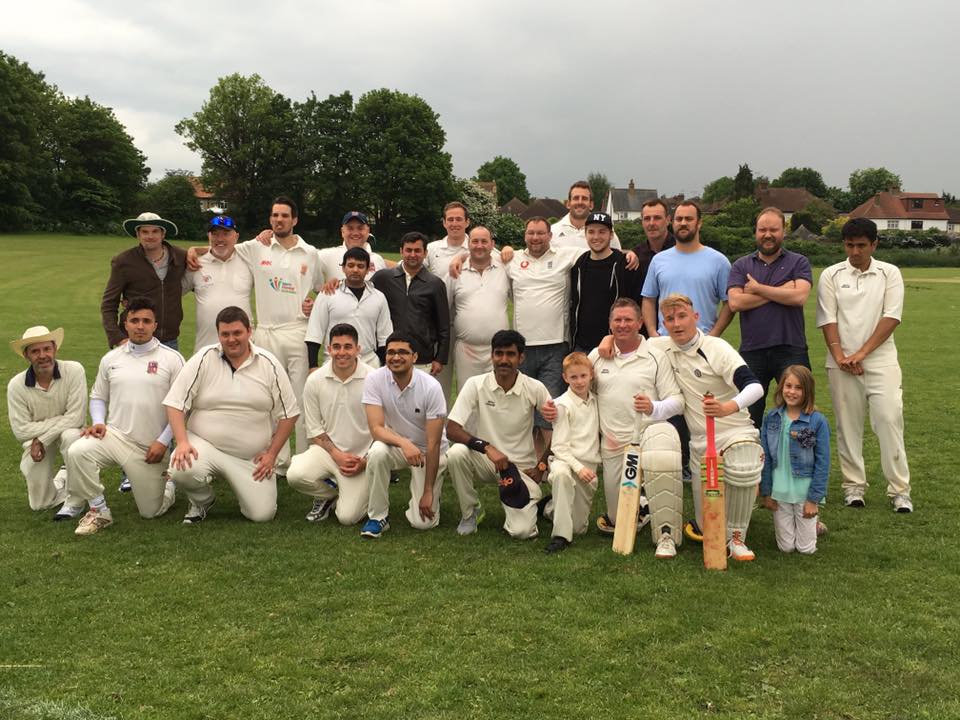 Match Report
---
29/06/2003 v East Sutton
won
---
This Sunday saw our first trip to East Sutton and was heralded with some fantastic sunny weather. Back in the fold this week were Neal and Mark both back from holiday. A note of dedication beyond the call though goes to Mark, who must have broken all club records for travelling to a match when he literally just had time to pick up his gear after flying in from Johannesburg! Another new recruit came in the shape of one Simon McArdle (apprentice lumberjack) who at the age of twelve becomes our one and only colt Ė not quite a team yet but who knows maybe in the future!

On another note we were left unfortunately without our skipper Richard this week as he has had some back trouble recently and on medical advice is taking a break. A real blow for the team as he has been in sparkling form this season, especially with the bat. So hopefully with some much deserved R&R we will see him knocking up again later this year.

Martin took over the reins on Sunday and after winning the toss elected to bat.

Anthony and Neal opened for us and wasted no time in taking advantage of the very short boundary on one side and soon had the score ticking up with ease. There wasnít a great deal in the wicket for bowlers and it wasnít long before the 50 was up and soon after the 100.

A partnership of 104 was the end result when a change of bowling saw the introduction of a leg spinner. That proved to be a temptation too many for Ant and soon clipped one to point where he was duly caught.

Tim was next and it will come as no surprise to many that he too was finding runs easily especially on the short boundary. This saw the frequent introduction of possibly the star of the day - Oscar the dog who despite snoozing under a tree at every opportunity, dashed eagerly to find any balls despatched into the next field and invariably found at least two.

With the score just short of 150 another change of bowling saw the introduction of some gentle medium pace which had Neal utterly confused as to picking the length and surely enough completely lost his footing trying to bury one and lost his leg stump in the process.

Adam briefly joined Tim but was soon back having been snaffled up at deep square leg.

Mark was next and patiently held his end up and allowed Tim to inflict maximum damage racing in seemingly no time at all to 81. With only a few overs left and his eye on his first ton he took his eye of a fuller ball and was bowled.

Bob was in next but never got settled and was bowled having got just three.

With only two overs left Pete joined Mark and the pair saw out the innings getting 10 and 18 not out respectively

After a fantastic tea the resumption saw Mark open the bowling and took a wicket with his very first ball when the opener skied one to a waiting Tim at mid-on.

Pete bowled at the other end and kept things tight with some good line and length and was unlucky getting a couple of lb. appeals turned down.

Mark struggled a little with his direction but still managed to take another wicket when Tim again took another catch

Adam replaced Mark and was rewarded with two wickets one falling to lb. and clean bowling the other.

In the mean time Pete bowled out his allocation and Martin took over and thanks to an excellent catch from Ant dismissed the opener who fell just short of his 50 with 44.

A small period of resistance from East Sutton ensued but was soon broken up by ever reliant Bob who with the help of a wicket from Anthony polished up the innings with a comfortable 57 run victory. A special mention has to go out to Colin though this week who did some fantastic takes behind the stumps but nothing caps his spectacular diving, one handed catch for Bobs third wicket Ė a real pearler!

East Sutton were short one man though and sportingly allowed young Simon a bat for them and he scored a couple of runs, (with a little help), before suffering the ignominy of being caught by his brother Tim. That Iím sure though didnít spoil his day and for a little fella his enthusiasm was terrific!

So another good result in a lovely part of the world. Special thanks must go out to our hosts for making us so welcome, and those who sampled the beer and sausage and chips in the pub after will, Iím sure, be marking next years fixture as a mustnít miss. Ė Top stuff!
---
v East Sutton
210 for 9

Wickets

Runs

66

1

4

55

81

6

2

37

18 *

3

4

57

10 *

0

34

1

44

267 FOR 5 ---won