---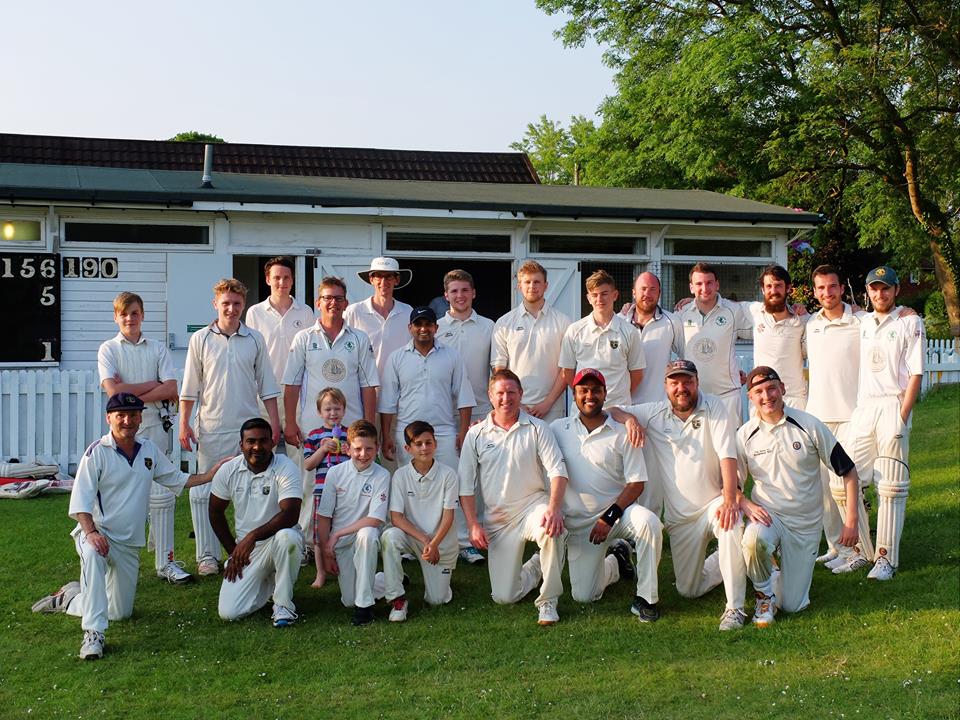 Match Report
---
15/06/2003 v Macknade 2nd XI
WON
---
Well, what a result! Forget the actual match, with Dartford crying off due to a lack of players, a hastily rearranged conference match saw us speeding down the M2 to Selling to play Macknade's 2nd II.

Considering, perhaps, not many of us were particularly were looking forward to playing Dartford after our last meeting (although on current form…?). It was an absolute delight to find our selves at a stunningly picturesque ground with an almost Tuscan view of the valley, very reminiscent of Marlingford's ground up in Norwich from last year.

Our ranks this week were swelled by John Skelland, and the first pair of overseas guests for a while in the shape of Eoin O'Neill and John Maher who all kindly stepped in at the last minute. John especially as he had never even seen a game before and was slightly bemused by it all.

That match itself turned out to be a little one sided as we were up against mainly some (very promising) colts and older fellas. Richard continued his fine form with the coin and elected to bat opening with Neal on an absolute dream of a batting pitch. This proved a good decision as after a few initial cautious overs both were soon taking advantage of the short boundaries and flat strip and the 50 was achieved just short of ten overs.

Having reached 30 a change of bowling saw Neal decide to change his guard after a succession of balls on leg stump only to loose his off stump very next ball to the sound of a half a dozen 'doh's' from the boundary.

Chris faired little better when he was caught out by a viscous inswinging yorker having scored 4.

Enter Tim who promptly set about the bowling with absolute relish and proceeded to heave the ball to all corners in and out of the ground including two lost balls in a nearby jungle (Borneo we believe) and a duck pond. With his sights firmly set on a third wicket record score for a lumberjack it was to his absolute horror that became the latest victim of the Old Dartechs Keystone school of calling. And was soon heading back to the pavilion doing an uncanny impression of Muttley from Wacky Races having got 73.

This saw Ant enter the fray and in a slightly less brutal way carried on where Tim had left off racing stylishly to his 50 in no time at all. Richard meanwhile had been steadfastly holding up his end whilst Tim and Ant scored freely and sportingly retired when he reached 71 to allow Colin to come to the crease for the last few overs.

A final score of 294 was achieved off the 40 overs including a partnership of 108 between Rich and Tim and 106 by Rich and Anthony.

The turnaround saw Pete and Bob open the bowling and both set about the task with gusto. Pete was especially unlucky not to have scored early when the opener survived an lb. appeal and dollied up a couple of balls which just fell short of fielders however he eventually clipped the off stump to send him back having scored just 4.

Bob as per usual was on good form but was unlucky not to score however the pair bowled out their 8 overs each with the score moving on to just 65.

Neil and Anthony took over but it wasn't until the hundred came up that Neil finally broke through the dead lock and then proceeded to take two more wickets in his last over the first two being bowled and the third being snaffled up by Chris behind the stumps.

It was clear now that Macknade were not going to get the score so Richard spread the bowling about a little and this saw Tim and Colin take over. Tim struggled a little at first with his line and length and at the start of his second over had everyone in fits of laughter responding to the friendly jibe from Richard of 'Come on now Tim no more of that other rubbish' by proclaiming 'Jesus first he runs me out! THEN he runs me down!!!'. Talking of fits of laughter let us come to Mr Deal who had all 'n sundry thoroughly entertained by his, what can only be described as eccentric fielding though to be fair he always seems to do what he sets out to - it just looks like it is done in reverse!!!

Surely enough Tim soon got the hang of things and his first wicket came courtesy of a terrific catch by Eoin (who looked a likely candidate for the Irish Jonty Rhodes) at mid off which sailed over his shoulder and was taken high whilst twisting to his right. Tim followed this up with an lb. Then Colin struck with Pete this time taking a catch again at mid off. Tim then bowled the next wicket and, in the very next over, caught another for Colin at mid on. A couple of balls later Colin finished things off by bowling the tail ender who quite optimistically had opted to wear a helmet when everyone knew the bloke in most danger was the umpire.

It was a fitting end to a fantastic day with a good victory attained but not at the expense of some great fun. And with our new friends keen to have a rematch next year things could not have worked out any better.
---
v Macknade 2nd XI
212 for 10

Wickets

Runs

30

3

25

71 *

4

73

3

52

92 *

0

16

2 *

3

53

0

34

1

32

294 FOR 3 ---WON