Old Dartechs & Wilmingtonians Cricket Club
Founded 1961

---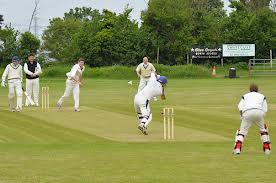 Match Report
---
03/07/2005 v Caterham CC
lost
---
Old Dartechs lose another "time" game.
Old Dartechs travelled to Caterham with confidence high after a successful season so far. It soon became apparent that Caterham had put a stronger team together, though openers Stuart and Bob turned the screws in the opening overs. Good fielding also helped keep the score to a miserely 45 off 20 overs. However these 20 overs were bowled in around an hour, and since we were playing "time" game, Caterham still had plenty of time to pose a good total. Caterham skipper Parrott played a waiting game, but once he had his eye in he scored rapidly, twice scroing 3 fours in succession. The Smiths came on first change, and bowled well without luck. The fielding started to deteroriate, with Mark Cooper bearing the brunt of a few bad bounces . He also dropped the skipper at a crucial time and Caterham managed to get to 206 in 43 overs. Mention must be made of two good catches by Tony Gray in his first game of the season.
After a sparse tea, Old Dartechs made a spirited start, with Stringer surpassing his highest score of the season with an early boundary. Mark Cooper departed, and Clive soon followed chasing a very wide ball off one of the young fast bowlers. Wickets continued to fall at regular intervals, and by the time Chris and skipper Coverly got together, things were already looking bleak. By hitting the bad balls for 4 , and by stout defending, this pair looked as if they were steering Old Dartechs to a draw, and even an outside chance of victory. Richard departed however to a mis timed shot to leg, and from then on in Chris fought a losing battle to protect the tail from some good bowling in very dark conditions. Bob Dunkley came in as last man and managed to hang around for a bit, but surely this game was made for the man who was scoring. We never lost this sort of game when Stringer J was in the team !
---
v Caterham CC
206 for 4

Wickets

Runs

18

1

20

0

19

9

0

18

0

54 *

18

1

32

4

0

2

63

0

0

42

4

1

29

155 FOR 10 ---lost